Mystery News: "Wonderful cozy mystery: solidly written, well-plotted and funny."
Welcome!
I'm the author of three different series–the Myrtle Clover mysteries, the Memphis Barbeque mysteries (as Riley Adams), and the Southern Quilting mysteries.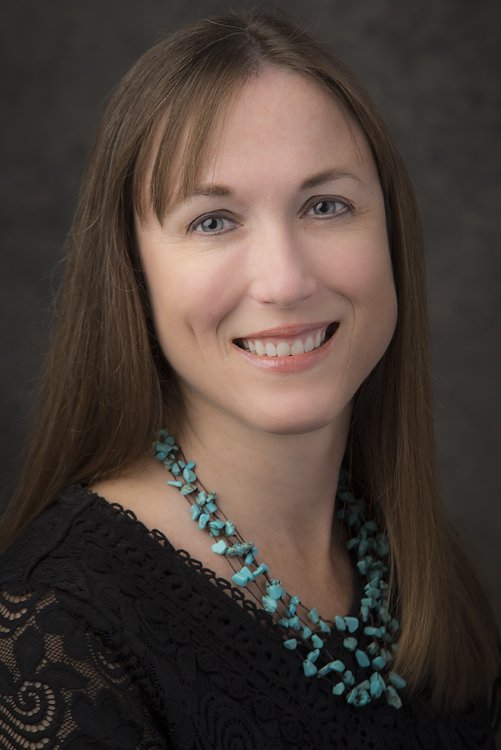 Here you can find out more about me, purchase or find information on my books,  learn how to contact me, and find out what I'm working on now.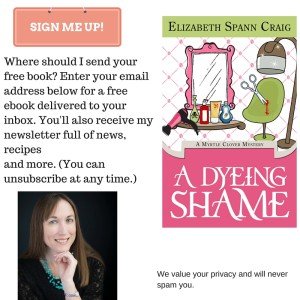 News:
Click here to visit my news page for online and in-person appearances.
Readers: sign up for my newsletter to keep informed on new releases (I'll also share recipes and extras about my books).
Translation: We have partnered with Moyano Lingua Consulting and Productions, LLC to bring the Myrtle Clover series to a global Spanish speaking audience. For more about Moyano Lingua:  www.moyanolingua.com
Latest release for Southern Quilting Mysteries!  September 13, 2017

A Southern Quilting mystery called Pressed for Time.  Purchase here.  
As Beatrice's wedding day approaches, murder finds a way to make her pressed for time. 
Beatrice and Wyatt's days are spent planning their cozy, chapel wedding. Both widowed, they mean to keep their wedding an intimate, family affair.
But everyone in Dappled Hills still wants to celebrate the happy couple. Beatrice and Wyatt find themselves at dinners, picnics, and barbeques in their honor.
When one of the festivities goes deadly wrong, Beatrice must try to unveil the killer before making her vows.
Latest release for Myrtle Clover Mysteries: Cooking is Murder (May 6, 2017)

(Myrtle Clover mystery #11)
In which Myrtle goes to cooking school–and learns more about murder than cooking!
What I'm working on now (Fall 2017)
I'm currently working on the next Myrtle Clover mystery, A Body in the Trunk, which I plan to release this winter.
A Body in the Trunk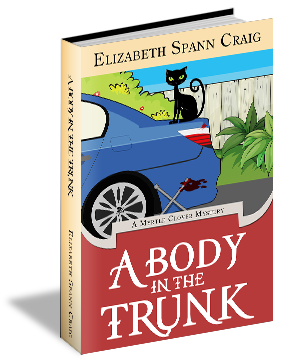 Sometimes taking a spin makes you crash and burn.
When a neighbor disappears, Myrtle and Miles shift gears and hit the road to search for him.
They discover their neighbor slightly off the beaten track—murdered with a tire iron. Myrtle has no intention of letting the killer give them the slip.
She and Miles buckle up for a race against time to find the murderer…before someone else hits a dead end.
Interested in following along as Elizabeth writes the book?  Read her real-time author notes as she journals through the writing of A Body in the Trunk.  Just click here. 
***
After "A Body in the Trunk," I'll be working on the 9th Southern Quilting Mystery, "Rest in Pieces." It will be released in 2018 (late-summer/early fall): 
Rest in Pieces (Southern Quilting Mystery #9):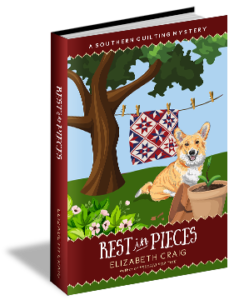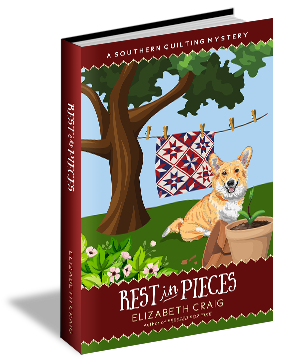 When Beatrice takes on a new case, she must solve it before anyone else rests in pieces.
Beatrice and her new husband, Wyatt, have started their life together.  Their first big event as man and wife is another wedding: that of Beatrice's daughter. It's a happy occasion and a beautiful ceremony—aside from the appearance of the odd and uninvited Ophelia. Ophelia argues with another guest, who is later discovered dead.
Beatrice must piece together the truth before the killer strikes again.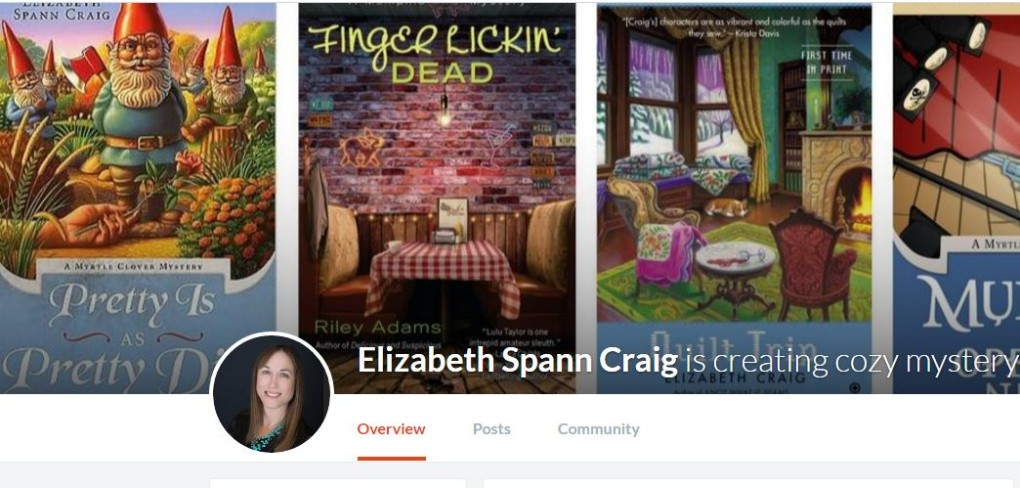 Extras:
Interested in having a character named after you? Want a Myrtle Clover tote bag? Or even just your name listed in the acknowledgments of a future book?  Visit my Patreon page at https://www.patreon.com/elizabethspanncraig
If you'd like an autographed book for yourself or a friend, please visit my Etsy page. 
Listen to Elizabeth answering reader questions: