Thanks for visiting my website. Here you can find out more about me, purchase or find information on my books, and learn how to contact me.
I'm writing three different series–the Myrtle Clover mysteries, the Memphis Barbeque mysteries (as Riley Adams), and the Southern Quilting mysteries.
News:

Click here to visit my news page for the latest updates on upcoming releases.
Readers: sign up for my newsletter to keep informed on new releases (I'll also share recipes and extras about my books).
What I'm working on now:
Currently, I'm writing  a Myrtle Clover story–Death Pays a Visit– with an anticipated release in fall 2014.
Available in paperback: The Myrtle Clover Mysteries Progressive Dinner Deadly, Dyeing Shame, A Body in the Backyard and Death at a Drop-In are now available in trade paperback.
Available in audiobook: Body in the Backyard and Progressive Dinner Deadly , A Dyeing Shame,  Death at a Drop-In , and A Body at Book Club are all available as audiobooks.
Recently released:
A Body at Book Club (released March 31, 2014): A Myrtle Clover mystery.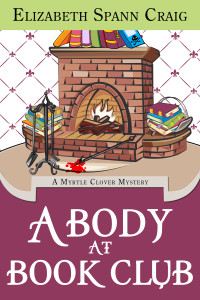 When octogenarian sleuth Myrtle Clover discovers Naomi Pelter's dead body during a book club meeting, the other members seem shocked.  But Myrtle can read between the lines. Naomi had riled everyone up by flirting with other people's husbands, arguing with neighbors, and generally making a nuisance of herself. Murdering troublemakers is the oldest trick in the book.
The book club members seem too sweet to be killers, but Myrtle knows better than to judge books by their covers. Myrtle's investigation into the murder will take a more novel approach than her police chief son's by-the-book methods. Can Myrtle and her widower sidekick uncover the killer…before he writes them off for good?
Read Chapter 1 for free by clicking here. 
Released August 12, 2013: Death at a Drop-In–the 5th Myrtle Clover mystery.
Cosette Whitlow
is a society matron…if tiny Bradley, North Carolina, has one. She kindly volunteers for all the town's charities, but isn't nearly as kind to her own family, neighbors, and friends. In fact, Cosette is emphatically disliked by much of the town—including octogenarian Myrtle Clover. And Myrtle knows that dislike in Bradley can quickly turn deadly.
No one seems surprised when Cosette's body is discovered during a party she's hosting—she was struck on the head with a croquet mallet. Wanting to restore order to the small town, Myrtle resolves to track down the killer—before the killer strikes again.
Third Southern Quilting Mystery is Quilt Trip, which released December 3, 2013.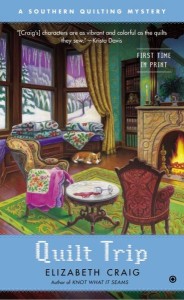 As a quilter, retired folk art curator Beatrice Coleman likes to have all the
seams stitched together—but her plans keep getting tangled up in unexpected
ways…
Beatrice has never crashed a party but now her fellow quilt
guild member, Meadow Downey, is driving them to a Victorian mansion in the mountains beyond Dappled Hills, North Carolina. Muriel Starnes, an elderly
eccentric, has organized a meeting of quilters to pick someone to administer a quilting scholarship. The fact that the Village Quilters weren't invited isn't enough to keep Meadow from speaking her piece.
But once the quilters arrive at the mansion, it seems they may never leave. An ice storm sends an old tree crashing across the driveway, leaving them stranded for the night. And by the next morning, they are one fewer—for Muriel has been sent to meet her maker.
With everyone in the house a suspect, it's up to Beatrice and the Village Quilters to figure out who has a guilty conscience before someone else gets tied
up in knots.
Coming Soon:
Shear Trouble  (Southern Quilting mystery #4–releasing August 5, 2014):
As the leaves begin to fall in idyllic Dappled Hills, someone puts too fine a point on a local
ladies' man. Fortunately, the detective skills of quilter Beatrice Coleman are a cut above the rest….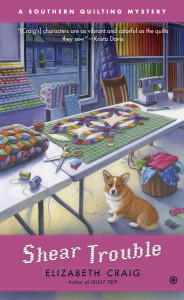 The Village Quilters of Dappled Hills, North Carolina, are desperate to finish their quilts before an upcoming show. To help, fellow member Posy has opened the back room of her shop, the Patchwork Cottage, for everyone to use. But the ladies are less than thrilled when Phyllis Stitt and Martha Helmsley—members of their rival quilting guild, the Cut-Ups—ask to join them.
Phyllis is hoping to leave the Cut-Ups and join up with the Village Quilters now that Martha's dating her ex-fiancé, Jason Gore. She's not pleased when he visits the shop and even more upset when her new shears disappear. After offering to search for them, Beatrice discovers Jason with the shears buried in his unfaithful heart. Now she must sharpen her sleuthing skills to find a killer before someone else's life is cut short.…
Death Pays a Visit: A Myrtle Clover mystery.  Anticipated release in fall 2014.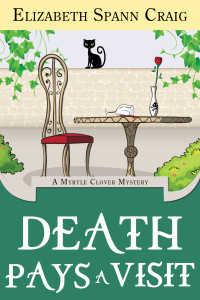 When psychic (and hubcap retailer) Wanda Alewine pays a late-night visit to Myrtle Clover, she urges the octogenarian sleuth to head straight to Greener Pastures Retirement Home. But Wanda doesn't want Myrtle to consider the home's dubious amenities–she wants Myrtle to prevent a murder seen in a vision.
Reluctant Myrtle investigates with sidekick Miles, who seems a lot more interested in Greener Pastures than she is. As the duo digs, they uncover more than just Sudoku and Scrabble—they discover a sinister undercurrent… with murder as its outcome.