By Elizabeth S. Craig, @elizabethscraig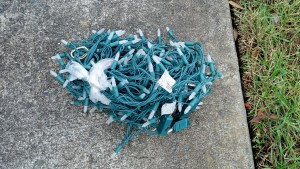 One thing that's nice about having older children is that they can take over household tasks that we're either not excited about, or just don't do well.  This is the way it works for me and Christmas decorations.
My daughter put up all the decorations inside the house.  They look amazing.  My teenage son ordinarily does all the lights on the tree and outside.  Unfortunately, since he had four wisdom teeth taken out over Thanksgiving, he was knocked out of the equation.  My husband was swamped with work, so I took on the outdoor lights.
When I pulled out the box from last year's Christmas, I just stared at the jumble on the inside.  I'd put away the lights before the New Year last year (some Southerners are superstitious about not putting away Christmas stuff by Jan. 1) and I'd thought I'd done it in an organized way.  But looking at the lights (pictured above), I wondered if I might have been on drugs when I put them away.  What on earth?  Clearly, I'd tried to do something about keeping the wires separated…but tying plastic produce bags around groups of cords?  What?  And those rubber bands floating around in the mix…they weren't actually providing any sort of function.
It took a while to straighten them out.  And quite a bit of muttering from me.  But finally, I spread them out on the front yard, methodically untangling the wires, and then put them on the bushes.  They aren't perfect…but they're done.
The disastrous jumble reminded me (sadly) of my current first draft.  I also wonder as I read it if I were on drugs when I wrote it.  :)  I suppose what I was writing made perfect sense to me the day I penned it.  I suppose.  But now it resembles just as much of a mess as the lights.  I knew from the beginning, though, that this particular first draft was one to be reckoned with.
My approach-starting out with a time-consuming revision:
Read the manuscript straight through.
As I read it, maintain a second document that lists issues that need to be worked out. Mine are very brief, usually.  Here are a couple (shouldn't be any spoilers, if readers are here): Page 33—Mentioned that Jason had left town 5 years ago. How many years ago was it?  What made him return?  Page 47—Martha mentions John approached her after the retreat in the parking lot.  Did this happen?  Did I write this in or only plan on writing it in?
I make minor changes to the document as I read through, but I'm maintain speed because I need a really cohesive assessment of where the problems and continuity issues are—and I won't get that if this reading through takes too long.  Most of my changes have been for improved word choice.
After reading it through and making notes, I'm going to methodically work through the list of issues.
Then I'll read it through again to make sure it makes sense with the changes.
After that, I'll layer in my usual late-draft additions of setting, chapter breaks, character description, etc.
More reading through (checking for things like echoes of certain words, other continuity problems, characters who seem out of character, etc.)
How do you approach revising a messy first draft?
(Visited 71 times, 1 visits today)