by Becca Puglisi, @BeccaPuglisi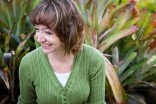 Since Angela Ackerman and I wrote our last book, The Positive Trait Thesaurus: A Writer's Guide to Character Attributes, I've been thinking a lot about personality traits and how they're formed. Flaws are incredibly important for a character to have—and, let's be honest: they're really interesting to read about. But one of the main reasons we fall in love with characters is because we want them to succeed, to achieve their goals and overcome their flaws; this is where the positive attributes come in. The fact is, every character needs both positive and negative traits, and these traits need to be chosen thoughtfully.
When it's time to create your character and figure out what his traits will be, you should take into account many factors that influence their development: genetics, upbringing and caregivers, past wounds, environment, peers—all of these things absolutely cause certain traits to organically emerge for a character. (For more information on how these factors influence trait development, please see this post on the topic.) Today, I'd like to zero in on what I believe are the two biggest influencers on trait formation: morality and basic needs.
Morality
Every character—protagonist, villain, sidekick, mentor, etc.—lives by a moral code. His beliefs about right and wrong are deeply embedded in his psyche and will influence his decisions, day-to-day actions, the way he treats people, how he spends his free time—they will impact every area of his life, including his personality. A character will only embrace traits that in some way align with his moral beliefs. Because of this, it's crucial that we know what our characters believe and value in order to figure out which qualities will define him.
Take, for example, Zack Mayo from An Officer and a Gentleman. Mayo's morality is largely derived from a traumatic childhood event: finding his mother's body after she killed herself. Mayo's father took him in but made it clear that taking responsibility for an impressionable boy wasn't going to put a crimp in his affinity for drugs and prostitutes.
Fast forward a decade, and Mayo's moral code has been formed from this sad crucible: look out for yourself because no one else will. Many of his defining traits stem directly from this belief. He's independent, opportunistic, persistent, apathetic, emotionally withdrawn, and selfish. It would have made no sense for someone with Mayo's moral code to embrace selflessness or loyalty, because to embody these traits, he'd have to go against his most important belief.
This is why its crucial to know your character's backstory. All those factors I mentioned earlier? Put those puzzle pieces together to figure out what your character now values, what he believes about right and wrong. Once you know his moral code, you'll know which traits he'll embody and which ones he'll disdain. His defining traits will be pretty much fixed because to reject them, he'd have to reject what he most believes in.
Basic Needs
But sometimes, as authors, a drastic shift in morality is exactly what we want for our characters. This kind of change doesn't occur easily, but it can happen under the right circumstances. This is where basic needs come into play.
According to psychologist Abraham Maslow, individuals are driven by needs that fall into five categories:
Physiological: the need to secure one's biological and physiological needs
Safety and Security: the need to keep oneself and one's loved ones safe
Love and Belonging: the need to form meaningful connections with others
Esteem and Recognition: the need to increase one's sense of esteem
Self-Actualization: the need to realize one's full potential and achieve personal fulfillment
The first level is the most important; if a character's physiological need isn't being met, he'll do whatever it takes to meet that need. Once it's met, the next level becomes the most crucial. And so on.
If you're crafting a story and you discover that you need one of your characters to undergo a major moral shift, simply take away one of his basic needs. An awesome example of this is the movie Prisoners. Hugh Jackman's character is a responsible citizen — morally upright and a family man. But then his daughter goes missing (i.e., his need for safety and security is no longer being met). He's certain he knows who abducted her, but the police won't do anything about it. He tries everything he can think of to get his daughter back while working within the confines of his moral beliefs. When those ideas run out, he begins wrestling with the options that don't coincide with his moral code. Desperate to regain his former equilibrium where all of his needs were being met, his morality shifts. He abducts his daughter's suspected kidnapper and tortures him in an effort to learn of her whereabouts. His basic belief that all human beings are deserving of dignity and respect has changed—and so have his traits. Respect has turned to cruelty. Centeredness gives way to fanaticism. And all of this can be traced back to one need that is no longer being met.
We're cruel taskmasters, we authors. But it's through difficulty that true character emerges, and if we want our protagonists to grow, we have to provide growth opportunities. Know your character's moral code and choose suitable traits. If you need your character to make a big change, threaten one of his basic needs. Then sit back and watch the metamorphosis begin.
Thank you, Elizabeth, for inviting me to post at your blog today. As a special thanks for the warm welcome, I'd like to give away a PDF copy of my book, The Positive Trait Thesaurus: A Writer's Guide to Character Attributes. Just leave a comment to enter for a chance to win. The giveaway runs through January 14th, after which time I'll pick a winner. Best of luck!
Becca Puglisi is the co-creator of The Bookshelf Muse, an award winning online resource for writers. She has also authored a number of nonfiction resource books for writers, including The Emotion Thesaurus: A Writer's Guide to Character Emotion; The Positive Trait Thesaurus: A Writer's Guide to Character Attributes; and The Negative Trait Thesaurus: A Writer's Guide to Character Flaws. A member of SCBWI, she leads workshops at regional conferences, teaches webinars through WANA International, and can be found online at her Writers Helping Writers website.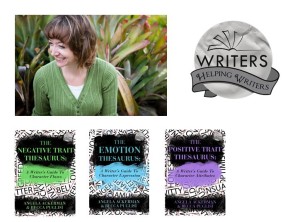 (Visited 419 times, 1 visits today)