By Elizabeth S. Craig, @elizabethscraig
There's an interesting phenomenon when you comb through your RSS reader—even if you have a large number of blogs that you're following.  Sometimes it's as if everyone got an idea for a particular blog post at the same time.  This is natural when you're talking about posts on a topical issue (publishing news) but a little eerie when it happens spontaneously, with nothing prompting it.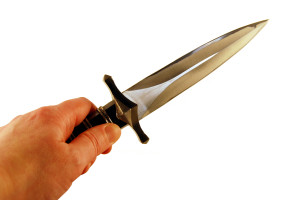 So I recently came across and shared or scheduled for sharing, four different posts in a week's time, that either linked to material on the same topic, or posted on that topic.  So we've got "400+ Ways to Kill a Character" from Clever Girl Helps,  "How to Successfully Kill a Character—the Checklist" from K.M. Weiland,  "How to Kill Your Main Character" from Rhiannon Paille, and "Murder 101—7 Reasons to Kill Your Character" from Robert Smedley.
I was blinking from all the killing, and I'm a murder mystery writer.
All of the posts had excellent points, which is why I shared them.  K.M. Weiland also delves into reasons why you shouldn't kill a character:
Shocking readers just for the sake of shocking them. (Shock value isn't without its, well, value, but not every author is Alfred Hitchcock and not every story is Psycho.)
Making readers sad just for the sake of making them sad. (An old saw says, "If they cry, they buy." But readers never appreciate being tortured without good reason.)
Removing an extraneous character. (I know, I know. I just said that was a good reason. But you have to double-check this one. If the character is extraneous, then you better verify he really belongs in this story in the first place.)
Naturally, as a mystery writer, I kill characters all the time.  I've done the math.  At a rate of two bodies a book and I'm on my fourteenth book…that's 28 bodies I've got littered out there.  But my readers expect bodies in these books.  They even enjoy trying to figure out who body number two is (body number one is always disclosed on the back cover).  I write a gentler subgenre, so my victims are usually the result of blunt force trauma, falls, or barely-described poisonings, knifings, or gunshot wounds.  Although the 400+ ways of killing characters post was fascinating to me.
But what series readers don't usually expect is for main characters in the series to die.  They've developed relationships with the recurring cast members and I haven't broken that covenant with them…yet.  Although our discussion the other day of dark story arcs for series made me mull this over a bit.
But there is one element I think we have to consider—what have we either invested in this character in the past or what potential does this character have to be a good investment for our series? Basically:  does this character have star quality?
I have an example, actually.  I've mentioned before that I have an editor who likes outlines and I turn in an outline for each book in the series before writing it.  I'd submitted this particular outline (this was probably 3 years or so ago) and she said she loved it—but she really wanted to keep Miss Sissy. In fact she'd particularly liked Miss Sissy the best among the supporting characters.
Miss Sissy, of course, died in the book's second act—in the outline.  But that's the nice thing about outlines…they can be changed.  So I brought Miss Sissy back from the dead and picked another victim.  And the editor made a great call—Miss Sissy ended up being the character I hear most about when I get reader emails for that series.
So, my basic point is—if you've got a character with potential for reader popularity, you might want to back off from killing that one.  If it's a series.   Just saying.  It's hard enough to create new, lifelike characters for a series…why put in all that labor, create a solid, winning character, and then kill her off for the sake of a minor plot twist?  Then we're back at the drawing board for the next book in the series, trying to create another well-rounded, lifelike character that readers relate to. Now obviously, if a major plot point or story arc depends on the death of a character…this is just something we have to go through with, regardless.
How can we know which characters instantly resonate with readers?  If you don't have an editor…it may help to get one (I maintain a free database that has many freelance editors listed).  Otherwise, beta readers are also very helpful—good betas are discerning and honest readers who can provide you with constructive feedback.  There have also, in another feat of synchronicity, been a couple of solid recent posts on betas: "Beta Readers: The Magic Elves of the Publishing World" by Nillu Nasser Stelter and "Where to Find Beta Readers" by Jami Gold.
Have you ever killed a main character?  How and why did you do it? When might you avoid killing off one?
Image: MorgueFile: Penywise
(Visited 3,662 times, 9 visits today)