By Elizabeth S. Craig, @elizabethscraig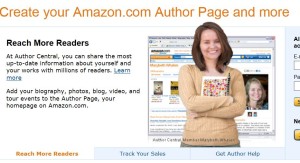 Amazon Author Central is an easy, quick way to establish a presence on the world's biggest book retailer.
I can link to my Author Central page as an email tagline, on my website, or on promo material to help direct readers to all (well, most) of my books on different formats. Because I also write under a pen name (Riley Adams), those books don't show up on my Elizabeth Spann Craig page.  But in my bio, I mention them and link to my website, which shows all three series.
I link to my Twitter feed and my blog feed to keep the page looking active. I have a bio and recent picture up there.  And I love the feature that Amazon provides: right on the right-hand column of the Author Central page is a section called "Stay Up to Date" which offers to email readers whenever I have a new release.
And…that's really it.  It's sort of like LinkedIn—I just set it up and forget about it and let it do its work.
What I hadn't done, until reading "Amazon Hack: Get Your Book into the Hands of an International Audience" by Penny Sansevieri at Author Marketing Experts, is set up Author Central on various Amazon International sites.  The article details the process, with screenshots.
Fortunately, a lot of the time-consuming part was skipped because your regular Amazon user name and password can be used for all these stores in all these countries and Amazon can connect you fairly automatically with your books.
I did have problems with France when claiming my books—they only saw one book from one series…and from Penguin, so they have to confirm with Penguin that I'm me.
I did also have problems signing into Amazon Japan.  I don't know why…I may have to set up a separate user name and password there, but that seems odd.  I'm planning on trying again later.
If you use the Chrome browser, it will automatically ask you if you want to translate the page into English (a box pops up at the top of the page for each link).  This is a nice time-saver.
USA: https://authorcentral.amazon.com/gp/landing
UK: https://authorcentral.amazon.co.uk/gp/landing
Germany: https://authorcentral.amazon.de/gp/landing
France: https://authorcentral.amazon.fr/gp/landing
Japan: https://authorcentral.amazon.co.jp/gp/landing
Let me just go right ahead and put in the link for Google Translate for my non-quad/quint-lingual writing friends. :) I took five years of French but that was unfortunately upward of 20 years ago and I had trouble putting together a simple bio in the language.  It's better if you have a fluent friend who can translate your bio for you, for obvious reasons.  I'll be working on mine more, later. One trick I found helpful was taking the translated bio and putting it back into Google translate and translating it back to English.  I found some very strange wording/sentence structure when I did, which caused me to reword my bio to make it clearer.
I will go ahead and save you the frustration of looking: yes, there are many other countries with Amazon stores, among them Canada, India, China, Australia, and Italy. (You'll find all of Amazon's international stores listed here.)  No, there are no Author Central pages set up for those countries—I spent way too much time on my Sunday confirming this. You can get to the country's store, you can sell your books there, but you won't find an Author Central page to upload your info to (if I'm wrong and you do know of a link…please let us know.) From what I understand, Amazon is working to create Author Central on all these sites, but it doesn't seem to be a tremendous priority for them.
In addition to working as a promo tool, Amazon also offers sales tracking from the Author Central page:  you can track your weekly sales and even see sales by geographical location.
I'm clearly not making full use of Author Central, but I have a presence there.  You can also add video clips (your book trailers or an interview where you're talking about your books, for instance).  You can add your events there (these could even be online events like Twitter contests or chats or Google + hangouts or new releases).  You can also add discussion threads for all of your books on your page.
I'm thinking that whatever I can do to increase visibility on Amazon sites has got to be helpful.
Are you on Amazon Author Central?  Internationally as well as in the US?
(Visited 575 times, 1 visits today)