By Elizabeth S. Craig, @elizabethscraig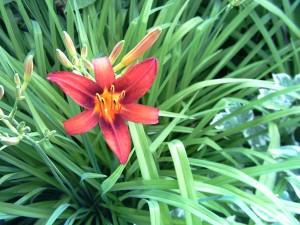 By now in North Carolina, we usually have average daily temperatures in the lower 70s and sunshine more often than not.
It's been a very strange winter and spring in the US.
We did have a spate of spring-like weather last week for a short time.  Since I've been feeling a little daylight deprived, I decided to go outside and do some gardening.  Actually, it was more like "yard work" since "gardening" to me denotes doing something light and airy with flowers.  This was work where I somehow ended up getting filthy and had to mop and vacuum my floor later because I'd tracked in. 
It was wonderful to be outside, though.  I pulled weeds in two large beds, laid newspaper down in the beds for a weed barrier, then put some pine needles on top.  Filled my birdfeeders, then used my shovel on some spots where weeds were trying to invade the bushes.
I looked back on what I'd done and thought: "This looks amazing.  So much better than it did before I started working."
Then I made the tremendous mistake of plopping down in a chair on my patio and studying the bushes on the far side of the yard.  There was some sort of mysterious vine that seemed intent on taking over the bushes—and the vine stretched from one end of the fence to the other.  Where on earth had it come from? Did it have something to do with the odd weather we'd been having?  It wasn't honeysuckle, it wasn't poison ivy (the two leafy offenders I usually see in my yard)—it was some sort of alien vine form.
Suddenly, the hour or so of work that I'd done in the yard was completely forgotten.  The success and accomplishment I'd felt in the yard was gone.  I  decided I'd just been kidding myself—there was so much more work to do. That I'd never be done.
And it occurred to me that I'd felt this way before.  Many times, actually.  It's the way I feel when I allow myself to think too much beyond each day's writing session.
I've  blogged on the danger of getting ahead of ourselves (hubris) when our writing is going really well.  But this is really a more pervasive problem for writers, I think—the danger of not resting on our laurels for just one day without worrying about all the pages and all the revisions to come.  That sense of total overwhelm that we get if we do think about it.
I've found, with my writing, that things go so much better for me and I stay much more motivated if I take my goals one day at a time.   It's been a busy week here—my kids have been off for spring break (back at school today).  It's been Easter and we've spent time with family and I cooked an Easter dinner.  I took my son over break to visit more colleges.  And I've met my goals…but I haven't exceeded them as I'd liked to have done.
Every day, though, I start fresh.  I'm not trying to catch up…just like I don't need to think I wipe out all the weeds in one fell swoop in my yard.  I just focus on that day's goals.
And, when I'm done, I try hard not to think ahead to all the future days' goals stretching ahead of me…all the planting and weeding still to be done.  I allow myself to feel as if I've done a good job for that day.  Who cares if I end up having to edit out that day's work, later?  I've done the same for my garden when plants haven't worked out the way I hoped.  My yard was the better for it, too.  No, for that day, all writing is good because I've done it—I've filled up my pages and set aside time for it.  I'll worry about the revising later.
How do you stay focused on your writing task at hand and not get overwhelmed by the work to come?
Image: MorgueFile: Gracey
(Visited 17 times, 1 visits today)