By Elizabeth S. Craig, @elizabethscraig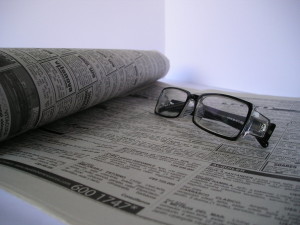 I'll be the first to admit that reading industry news can be…stressful.  I'm one of those people who avoids confrontation at all costs, so I rarely weigh in, although I follow trends and news very closely.  I form opinions and those opinions evolve as circumstances evolve.
But it's vital that we keep abreast of developments. News stories help us make smart decisions with our career paths and contracts.  So I thought I'd provide some reputable sources here for news and information.  Some of these sites frequently display bias toward self-published/indie authors and some are most-often biased toward traditional publishers.  I read them all.  I remember studying abroad in London during college and being told I should read The Times, The Independent, and The Guardian to get a balanced view of my own.  So I'm following in that tradition.
First off, journalist Porter Anderson's site.  If you don't have time to follow various sites but want to keep up with industry news…he pulls everything together for you in his reports.  He curates news and does a nice job bringing different viewpoints together in each of his posts.  Porter writes for different sites, so it's probably best to follow his site's RSS feed so you can keep up with him.  Or, if you're on Twitter, just follow him there to receive the most current information—and to also pick up his live feeds from the different conferences he covers.
If you're looking for breaking industry news, reporter Laura Hazard Owen at Gigaom does a nice job keeping writers current.  Her stories can be found here.
Jane Friedman's weekly feature, "The Smart Set," is excellent for sharing excerpts of well-written posts on current hot topics and raising questions culled from the content.
Attorney David Vandagriff 's Passive Voice Blog serves as an aggregator of industry news and industry discussion.  Reading the comments is a must.
Hugh Howey is doing an amazing job speaking on behalf of self-published writers and appears to be on the verge of sparking what Porter Anderson termed a labor movement.  He always has something interesting and thoughtful to say.
Joe Konrath's posts can get heated, but his thoughts on problems inherent with traditional publishing frequently fascinate me.
David Gaughran's blog reports on industry upheaval but also helps writers wade through tough issues and helps provide guidance on areas writers might be debating (should we go on Wattpad? Should we try KDP?  What does the breaking news from Amazon mean for me?).  He's also done some nice reporting on publishing scams.
Digital Book World reports industry news and holds a yearly conference for publishers and other content providers on adapting to the digital landscape.
Mike Shatzkin's blog, The Shatzkin Files, offers in-depth analysis of publishing-related issues from an industry perspective. (Mike Shatzkin has spent nearly fifty years in the business in many different roles.)
So…if you want to keep up with industry news, there are plenty of options.  What are some of your favorite sites?  Read any of these?
Image: MorgueFile: Alvimann
(Visited 28 times, 1 visits today)