By Elizabeth S. Craig, @elizabethscraig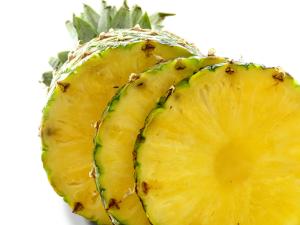 My entire family has suddenly become obsessed with pineapple.  I don't know what came over them.  It's like the pineapple fairy visited one night. And they want it fresh.  Not canned or frozen (does it even come frozen)?
So…I started out by buying those containers of chopped pineapple at the grocery store deli.  But I balked at paying $6 for a smidgeon of pineapple that the family consumed in less than a day.
Then I bought the formidable looking fruit whole.  I looked up "how to cut a pineapple" online and the internet immediately coughed up a wiki-How thing with helpful pictures.  However, this process involved a bit of brute strength on my part, a couple of very sharp knives (never smart for a clumsy person), and about thirty minutes since I still had to slice out the tough black "eyes" afterward.
I decided I wasn't the kind of person to spend 30 minutes a day slicing pineapple.
I was back in the grocery store to glumly purchase $6 worth of pineapple when I passed a pineapple slicer at the store.  It was $3.99.  I bought it and left for home.
I'm not a mechanically minded person.  But I tried.  I cut the top and bottom off the pineapple, stuck the device on the top, and twisted.  The pineapple fell over.  I said some unpleasant words to the pineapple and stood it back up.  This process repeated itself several times until the top of the pineapple became mush and my ire alerted my husband.  He's a computer engineer, and is definitely mechanically minded.
He carefully read the instructions. Then he experimented with the pineapple and the slicer.  Magically, it cored and sliced the pineapple in about 30 seconds. My husband's technique with everything is thoughtful, deliberate preparation.  And everything he attempts goes well…if not on the first try, then on the next.
I'm an impatient person and I jump right in.  It was this way for my writing for ages, too.  I'd find 5 minutes and tear into the story.  I had an idea where I was going, but I'd wander off where the story or characters led me, too.
Sometimes this worked really well.  Sometimes it didn't.  The worst was when I ran into a huge issue and I was very close to a deadline. Sometimes I ran into plot holes or character motivation issues or other problems.  I marked the manuscript with Word's highlighter to indicate the moment in the manuscript where I fixed the issue and kept on moving forward (knowing this meant that I'd have to heavily revise the beginning up until that point).
I started trying more and more prewriting before starting new projects.  Then I started doing more prewriting before my daily writing, too.   I found it helped me clarify where I was going and added character depth to even the random suspects who are one-offs for each book.
This approach helped me write faster and cleaner with more character depth in the first draft. With the conflicting deadlines from several series, I needed the help.
My prewriting before each book:
An outline (very rough).  Some call these beat outlines.  Mine are sort of like: "and then this happened! And then that happened! And then…."
A character list with names and brief descriptions. As I add more character description, I add it to this list so that I can have some degree of consistency.
A bunch of lists.  Lists of potential motives.  Lists of possible murder methods. Lists of potential killers.  Lists of potential second victims.  Lists of settings I might want to use.  You get the idea.
And then I jump right in.
Daily prewriting:
I get my head into the story before I sit down in front of the computer to write.  While I'm fixing my coffee and letting the dog out in the morning, I'm remembering where I left off and the scenes I'm about to write.
I can still go where the story and the characters lead me. I just have a plan…one that can be deviated from.
How much, if any prewriting do you do (it doesn't have to include outlining)?  Are you a planner?  Do you jump right in?  Or is it a little of both?
Image: MorgueFile: Pippalou
(Visited 86 times, 1 visits today)