By Elizabeth S. Craig, @elizabethscraig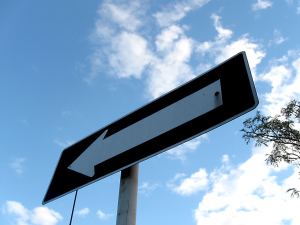 I find my daughter's middle school English homework a lot more interesting than she does.
She had a page of notes regarding "signposts" she should be looking for as she reads through various books for school this year. I did some poking around online and found that this material comes from Notice and Note: Strategies for Close Reading by Kylene Beers and Robert E. Probst. The notes were interesting to me, as a writer.  For one thing, they pointed out areas that could be problematic for us as we write our books.  Here's what I read in her notes, and my thoughts in italics.
6 signposts:
Contrast and contradictions: When you're reading and a character says or does something that's opposite of what they normally do.  Asking why the character is doing that action may help you understand character development, internal conflict, and theme. Or—it could be a plot manipulation, if done poorly. Or it could mean a distracted/hurried writer who isn't maintaining character consistency.
Aha moment: A character realizes, understands, or finally figures something out.  If they figured out a problem, you probably learned about the conflict, if a life lesson, then the theme.  Potential problem area for writers…when is the "aha moment" occurring?  Is it too early in the book?  If it's a mystery, the aha moment really needs to be either a red herring or a revelation about a smaller puzzle in the story.
Words of the wiser: A character pulls over the main character and gives serious advice.  You should stop and ask yourself: "What's the life lesson and how might it affect the character?"  It may indicate the theme or internal conflict.  Interesting.  Have to be careful with this.  If the protagonist takes a back seat during this process, this can be a problem.
Again and again: When you notice a word, phrase, object, or situation mentioned over and over.  Ask yourself, "Why does this keep showing up again and again?" It may tell you about the theme and conflict, symbolism, or might foreshadow what will happen next. Or it could be similar to Chekhov's gun…it better mean something if it's in there.  If we're accidentally repeating ourselves, that needs to be taken care of during revisions. Same with overused words/crutch words.  Although I suppose no schoolchildren would think much of my overdependence on "just."
Memory moment: The author interrupts the action to tell you about a memory.  You should ask yourself, "Why might this memory be important?" Tells you more about the theme or conflict or may foreshadow what will happen next. Memories are tricky! Maybe we should ask ourselves the same thing—"Why might this memory be important?" If it's not essential to character development or plot, it probably needs to be axed.
Tough questions: The character asks himself a really difficult question that reveals his or her inner struggles.  Stop and ask yourself, "What does this question make me wonder?" Tells about conflict, might foreshadow what will happen next.  I'm thinking this better be in dialogue with another character or else internalized worrying expressed a bit differently.
Reading through these again, though, I'm realizing that I've used all of these in my mysteries from time to time.  Carefully.  A sleuth trying to elicit information from a suspect may use contradiction. The aha moment is vital for red herring discovery (and, if you're a mystery writer and have an aha moment that points to a clue…you'd better be pretty close to the end of the book. Otherwise, the clue should slip under the radar and not be an aha at all). Insight is often given my sleuths by observant onlookers or sidekicks (sometimes accidentally). I do repeat thematic elements…over the course of a series, though, since I want the series to have a theme more than individual books. Memories involving the victim are vital to mysteries. And…sure, I've used the tough questions thing too, although it's more of the "dark night of the soul" moment that we see in scriptwriting structure.
Do you recognize any of these story signposts in your own writing?  Are you more interested in your child's English homework than they are? :)
Image: MorgueFile: Alvimann
(Visited 529 times, 1 visits today)