By Elizabeth S. Craig, @elizabethscraig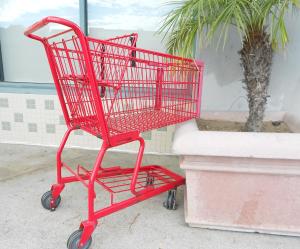 If you live in the Southern US or have spent much time here, you'll know that even something like a short trip to the grocery store can mean many conversations with strangers.
Whenever I'm in the store (which is, really, nearly every day considering I keep forgetting to put things on my lists), I know that items in my shopping buggy, the length of the checkout line, something I'm wearing, or any other random thing may engender comment.
A woman waiting in line with me the other day smiled and said, "Well, your groceries all looked super-healthy until I saw those Doritos." 
Nearly every trip there'll be questions about how ripe the cantaloupes looked, how much the ground beef ran me, or whether a particular snack food is tasty or not.  A couple of times I've heard, "I've got a joke for you" or "are you from Charlotte originally?"
I'm told that the public isn't this chatty in some other parts of the States, but I wouldn't know, having only lived in the South.  Living in the Charlotte area, though (Charlotte is a good sized city), I've seen plenty of people who clearly aren't from around here look startled when complete strangers strike up conversations with them.  I guess it isn't scary only if you're expecting it.
It's the kind of thing that makes for regional flavor in a book—and makes a book believable to residents of that area when you slip it in.
Sometimes regional flavor is so subtle that I wouldn't consider putting it in a book because it would go over too many readers' heads.  "Good morning/afternoon, young lady!" is a common, jovial salutation from Southern elderly gentlemen to femmes d'une certaine age.  I believe that the certaine age has crept up and while at this point in my forties I would once (and fairly recently)  have qualified, it now usually seems to be addressed to women at least a decade older than I am.
However, I received this greeting recently when dodging into the store wearing no makeup after driving morning middle school carpool.  I shot the man a horrified look, stuttered a greeting, and then quickly finished my shopping so I could drive home to make repairs.  Clearly I'll have to be more diligent about makeup when running morning errands. I knew Southern women would understand and sympathize if they read about this experience. But it would be too subtle for a book written for an international English-speaking audience.
A major contributing factor to my getting the two Penguin series is that the editors were looking for a Southern writer and Southern settings.  But it can be tricky when you're writing a region.  It's easy to either overdo it or to work in things that won't resonate with readers from other areas.
I knew (or figured) that the editors weren't looking for a lot of Southern dialect, which can be tricky to read. Diction is usually better–for instance, the way I call it "grocery shopping" instead of "food shopping," which my Northern neighbors usually say.   I mainly work in setting, culture, word choice (being careful not to be too obscure) and general behavior (like the friendliness of strangers) into the books.  Local attitudes in common situations is a subtle way of adding color to a book.
Traditions involving weddings and funerals and family gatherings also make it in. Weather/climate is quick and easy.  Architecture can help when describing a setting.  And food—regional food is probably one of the easiest ways to set up a sense of place for readers.
If your books are set in a particular region, how do you write it?
Image: MorgueFile: citysafari
(Visited 44 times, 1 visits today)