By Elizabeth S. Craig, @elizabethscraig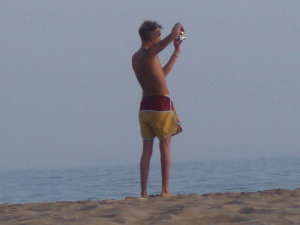 I was driving carpool from the middle school last week when a couple of radio hosts started talking about Facebook and vacation stories.
One of the hosts said he really hated Facebook because people always put up beautiful vacation pictures of their lovely families and everyone looked as if they were incredibly happy and having an amazing time.
The radio host went on to point out that no one wants to hear a happy vacation story—that these friends of his should just keep their experiences to themselves.  People only want to hear a story about a vacation that starts out great…and then something horrible happens.
This made me smile for a couple of reasons.  For one…I'm not wild about Facebook myself and everyone there does put their best face forward. (Who can blame them, though?)  I do have one friend from college who puts up absolutely hysterical snippets about her (rather stressful) life with her young children and I always love reading her updates.
This all sounds awful…but it's how we're entertained, right?  If everyone is blissfully happy then it's not nearly as memorable or interesting.  Not that we wish bad things on our friends, but…
We need to wish them on our characters.  Our characters need to have a heap of issues to deal with, and issues that aren't solely related to the main plot.
I've found that, as my series have grown longer, I have to force myself to throw some really nasty things at series characters.  It's a lot harder than making trouble for the same characters at the beginning of the series.
I was wondering why this is and two reasons came to me.
Space issues. Readers have asked me to make sure to include their favorite series characters.  And…as series continue, new characters tend to crop up and become recurring.  It's much quicker and easier to pen a happy subplot with these secondary characters than to create an arc for each one with conflicts to resolve.
I've spent too much time with these characters over a period of years and am too fond of them.
I was reading a very lengthy Elizabeth George novel recently and thought that she was trying to check in with a lot of regular characters in her Inspector Lynley mysteries. I know readers enjoy catching up, but it had the feel of a Facebook update…just a glimpse of the characters being happy with each other. But gosh, that book was so long that it sure didn't need any other plot developments.
So here is what I've been doing:
Tie in these little catching-up subplots of these likeable supporting characters with the main plot. So maybe I've got some sort of happy subplot with some minor characters…they've got a new relationship maybe and are going on a delightful picnic (where they'll likely take photos for Facebook).  But along the way, they'll find a body.  Or they'll become a witness and offer a clue/red herring.  Or they'll lose their dog and the dog will end up finding a clue.  At any rate, they're working harder for me and earning their keep.
Occasionally, I'll make one of these secondary characters play a primary role in the action and will have an entire developed arc for them during the course of the mystery. But only for one or two characters—this gets sort of involved and too lengthy for a 75,000 word mystery (which is what mine are under contract as).
As a reader, do you look forward to catching up with minor characters in series?  How much catching-up do you require?  Do you like the characters to contribute to the overall plot and encounter conflict?
Image: MorgueFile: mantasmagorica
(Visited 35 times, 1 visits today)