By Elizabeth S. Craig, @elizabethscraig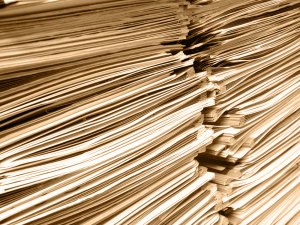 I try hard not to work on more than one project at a time.  But sometimes, with several series, I've had to juggle multiple projects at once.
For me, the hardest part is writing two first drafts simultaneously. I think that's because it takes a bit of time to move out from one story world and into another.  Right now I'm outlining two books for a Penguin editor, and working on the first drafts for two different books.  Ugh.
Things that I've discovered can help:
If possible, edit one and brainstorm another.  Or outline one and draft another.  For me, anyway, this helps because it feels like I'm working out different areas of my brain.  Or maybe I'm just deluding myself.
Outlines help.  I know…I was anti-outline once, too.  But they help keep storylines straight, especially with the sometimes complex storylines in mysteries. And they prevent mistakes where a character from one book makes a guest appearance at your other book. If you don't like outlining, try just thinking through the very next day's writing.
If you're equally alert/creative in both the morning and the afternoon and have the flexibility, work on them six or more hours apart.
I'm trying a new genre now and am finding that writing two different genres is easier to keep straight than when working on the same genre (I guess this should be a no-brainer, but I was pleasantly surprised).
I've found that taking a few minutes before sitting at the computer to get my head back into that story's world can make the transition easier into the other book.
This is going to sound really absentminded of me, but the more characters I'm dealing with (and with two or three books at once…we're talking about a ton of characters to keep straight) the harder it is for me to remember even main characters' names.  I might know everything about them and how they react to the world, but can't cough up their name.  So…I lean heavily on cheat sheets.  Think basic.  A snippet from one of mine reads like a cast of characters in an old program.  Another reminds me of everyone's motives and who is misdirecting me to whom. Another has a list of recurring series characters, settings, etc.  I keep the cheat sheets either printed out beside me or up in another window on the computer.
Take breaks. Get sleep.  Sleep deprivation doesn't help prevent confusion, obviously.  Healthy eating and exercise helps with stress.  I've gotten better lately with both since stress levels were building up pretty high.
And then, of course, the books are edited to death later by both me and a professional editor(s) to make sure I haven't screwed anything up.
The upside of writing like this is that I'm producing more, earning more, and engaging my readers by providing them with more content (and quality content. If it's not hitting a certain level of quality, I'll delay publication until it does).   The process is also something of a creative rush.
The downsides are evident.  :)
Have you worked on multiple projects at once?  What tips do you have?
Image: MorgueFile: dhester
(Visited 174 times, 1 visits today)