By Steven R. Leonard, @easterduckling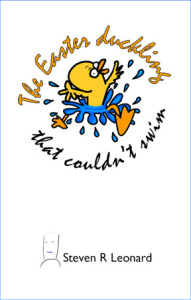 "Those were the best days of my life."    Bryan Adams in "Summer of '69"
THE FUNNIEST STORIES DON'T NEED TO BE EMBELLISHED MUCH – THEY REALLY HAPPENED
We all remember three or four stories from our childhood that always bring laughter to a dinner party – whether it's about the time you barged in on your semi-naked parents having sex in an empty bathtub or when you caught the prissy librarian picking her nose when she thought no one was looking – the most farcical humor is based on true events. Readers can detect unrealistic dialogue and forced situations – just recount the story as it unfolded. Blurting out the punch line before starting the chapter never works, so don't skimp on important details leading up to the climactic deus ex machina in reverse.
LEARN HOW TO USE WORDS THAT BEST DEPICT HUMOR
Which word makes you smile more: kerfuffle or uproar? Discombobulated sounds quirkier than confused, and klutzy reads better than awkward (all words with a hard "k" and "p" are inherently funny to pronounce). Read your sentences out loud to get a sense of the timing and then try the same phrase with a Yiddish word or a non sequitur thrown in to upset the balance. When in doubt, simply add flibbertigibbet to an intense dialogue about nuclear physics and prepare your faux fireplace mantle for the numerous comedy awards you are guaranteed to earn.
STUDY OTHER WRITERS THAT MAKE YOU LAUGH
It's no secret that successful humor writers like Mark Twain, David Sedaris and Dave Barry spent years developing their voice and when you read a chapter or essay from their books you realize after a paragraph you're in good hands. They know how to construct a background, introduce characters, and then deliver a punch line or plot twist that leaves you giggling while you wait for Uber to overcharge you for the ride to Olive Garden for the all-you-can-eat breadsticks. Read H.L. Mencken, Nora Ephron, Oscar Wilde, Rick Reilly, but avoid Dostoevsky, Solzhenitsyn, or Crymeariversky unless you want to brood all day drinking ouzo, and thinking about the plight of homeless anteaters in South America.
READERS RELATE TO CHARACTERS WITH FLAWS AND WEAKNESSES
Would you rather read about an insecure and clueless protagonist or a cocky and confident hero with no flaws who never makes a mistake? Most good humor (See Woody Allen or Steve Martin) stems from the simple premise that the person writing/telling the story is a complete nincompoop and/or screw-up. In a memoir you are the main character so bragging about your unprecedented pickling skills or how quickly your toe nails grow during the winter solstice is boring and gag-me gross. Unless your last name is Bond or Clooney skip the part about the honorable mention ribbon you won for the Lamborghini snowmobile you carved out of a bar of soap for the art fair in sixth grade (that ribbon is still on my mother's refrigerator door).
MOST STORIES CAN BE TOLD IN TEN PAGES OR LESS
Think about the moment in junior high school when you tried to look cool the first time you smoked a cigarette or chugged a shot of Sambuca in front of the "in crowd." Chances are you looked like an idiot and the story didn't continue for another month. Attention spans are shorter than Danny DeVito's tube socks in today's fast-paced world – War And Peace may be an epic novel – but most comic books, humorous memoirs, and YouTube clips of skateboarders stumbling into oncoming traffic are short and efficient at getting chuckles. You don't need thirty-seven chapters to describe the cool kids and their monogrammed Fuggs, just give us a taste of how idiotic they were and why you craved to be liked by them.
WORK AT YOUR CRAFT DAILY – AFTER ONE MILLION WRITTEN WORDS IT'LL BECOME SLIGHTLY EASIER (SO I'M TOLD)
Ray Bradbury is quoted as saying a writer doesn't start to become proficient until they've written a million words. He then added, "Your first million words don't count." His advice: Write a thousand words for three years and you'll begin to make progress. Either your goal is to become proficient at your craft, or you're a wannabe writer. Last I checked, there were no posers on the NYTimes Best Seller List. Write, edit, and repeat the rinse cycle every single day (especially if you have unsightly split ends).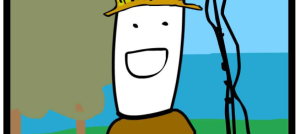 Steven R. Leonard wrote The Easter Duckling That Couldn't Swim and can be reached at Steven_leonard@icloud.com. His website is: stevenrleonard.com.
(Visited 1,131 times, 1 visits today)