By Elizabeth S. Craig, @elizabethscraig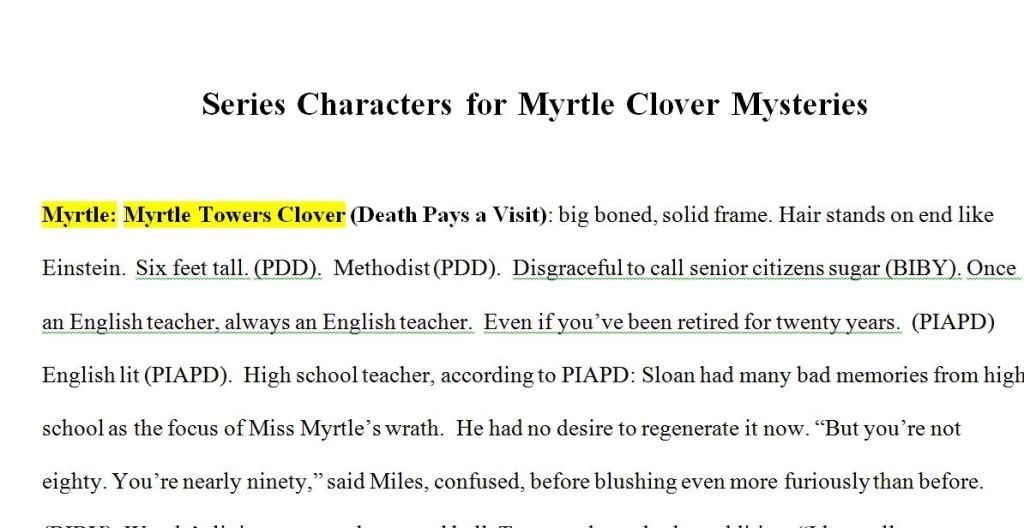 It's trivia that trips me up in my series…seemingly trivial throwaway lines that I make in books and then promptly forget.
The more books we have in a series, the more important tracking the trivia becomes.  It's easy to lose track of tiny details when your mind is on the big picture of your plot.
It's the kind of detail that you use to fill a character or a setting in a little bit.  A recurring character has nice teeth.  Drives a Buick.  Is allergic to cats.  Lost his mother in his twenties.
One character's glasses have been a disaster. The character started out looking, in my head, like Donald Rumsfield with his rimless glasses.  Those glasses at some point transformed to wire-rimmed glasses in the series.  When I noticed this, I just kept it consistent with the most recent mention of the glasses and thought to myself that if a reader noticed, I'd tell her the character had gotten a different pair.  No one has contacted me about the detail.
However, a reader wrote me on Wattpad recently to ask about my protagonist's grandson's age. This is that reader I've written about before who knows my characters very well.  In one book, this grandson has no teeth and is eating baby food.  In another, he speaks two-word sentences. So which is it?  I told the reader that I'd aged Jack but kept the other characters about the same age (because I have no plans on aging my octogenarian sleuth).  And then I got out my series bible and made some more notes.
I think it's the readers who binge-read who catch these things the most.  The ones who just finished  book three a week ago, book four a couple of days ago, and are now reading your book five.
It's not only the self-pubbed books, either. It's the trad pubbed ones. The occasional very slight inaccuracy that wasn't caught by an editor.  But the kind of thing that can yank a reader out of our story.
For the self-pubbed books, if I catch a problem, I'll go back into the document, correct it, and then republish.  For the trad-published…I'll just keep my fingers crossed that I'm the only one who notices. And cringe a little.
These are my personal best practices for preventing the problem:
Reread any books written before a series bible was created.  Make notes on any recurring character or setting or any continuing plotline on a master document for the series.
Divide the notes up by characters, setting, and subplot to make referencing easier.
Add notes as I go to the master document for every new book I write.  If I make any changes in the edits, change them on the master doc.
Document the source of the reference.  I abbreviate the book titles where the reference appears.  [Crazy Dan poked his grizzled head out the door, a scowl on his leathery, stubble-covered features.  "You again!"  (DS).  A wild, mangy beard and shaggy gray hair.  (PDD)]
Make any style notes, as well, to add to the document.  So it's the Bradley Bugle newspaper, not The Bradley Bugle.
Make changes to the text of anything I've self-pubbed that displays inconsistencies.
Make a copy of the master document to have in the same folder as the new work-in-progress for the series. Keep a copy on the cloud, as well (for me, this is Google Drive, which I can access on my phone), in case I'm working on paper somewhere and need the file as reference.
Things I  track:
Setting details.  The color of a house, the name of the character's street, the favorite hangout for the characters, what type of food their favorite restaurant serves, the character's living room. Population of the town.
Character habits or details:  Early riser.  Kills houseplants.  Subscribes to the newspaper.  Peanut allergy.  Cries at weddings.  Scrapbooks.  Reads nonfiction only.  Likes jazz.  Attends church. Exercises daily. Eats junk food. Smokes. Drives a minivan.
Character description:  Wears glasses (and type/color of frame), never wears flats, blue eyes, gray hair, fondness for bowties, age, height.
Character beliefs:  Political leanings, spiritual beliefs, attitudes toward family or spouse.
Continuing subplots: A character's health issue, a character's relationship with another character, a character's issues with his work or his family.
Another nice thing about these series bibles–it helps me see where I need to fill in a character a little more.  Am I using the same words or details to describe a character for each book?  This is one way I can spot this problem.
These little details can really get out of control over the course of a series.  Do you use a series bible?  What kinds of things do you track?
(Visited 272 times, 1 visits today)