by Elizabeth S. Craig, @elizabethscraig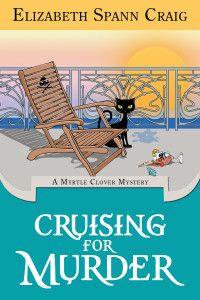 I'm not one of the front-runners, ever, on promotion-related things.  I tend to be a lot more cautious.  Or, really, it's more that I'm super-protective of my time and jealously guard it.  I want to make sure there's plenty of data that something works before I spend the time figuring it out and pursuing it.
I've been hearing for the last year or so about the importance of preordering.  But I didn't see how it would be something I wanted to pursue. When I was on the trad-published email loops, authors would complain about how preorders killed their chances for the bestseller lists and watered down their release day/week sales.
I also kept reading that preorders on Amazon didn't make any sense because the visibility we gained on the site was only at the time of the order…not accumulated and toward release day sales.
At the recent NINC conference, I heard even more about preorders, this time from the folks at Draft2Digital.  They acknowledged that it doesn't make sense for authors to make their self-published books available for preorder on Amazon…but thought it helped to increase sales on other retail platforms.  I've heard other authors talk about their successes with iBooks and Kobo through preorders (see the Science Fiction and Fantasy Marketing Podcast for more details) ,so I was inclined to believe that they were right about it giving authors an advantage on those sites.
I subscribe to Mark Coker's blog (he's the founder of Smashwords) and a July 2015 post specifically addressed hitting bestseller lists with preorders.  The link to his slideshow on the topic is here and the portion that deals specifically with preorders starts with slide 231.
Of note in the slideshow (for me, at any rate):
Customers' credit cards aren't charged until the release date (this, to me, again shows that the sale is technically on release day).
"Allows superfans to start reading and reviewing first."  Good point.  The people that we most want to get our book first will get it first.
"Preorders can be merchandised inside your other books."  Interesting. This means modifying our epub files (I wouldn't be linking to other retailers in the backs of my Kindle books, obviously).
Apple iBooks automatic merchandising.  So they're listing our preorder alongside our other titles.
"Consider releasing on a Saturday to fully leverage the increased visibility of your sales rank."  Coker states that weekends have higher volumes of sales.
My thoughts on this:
I'm already getting covers done a year in advance of my even writing a book so that there aren't any production delays in terms of cover design with my designer.  This means I've also already written the cover copy (description) because of the print version. Why not put the book up for preorder on sites where it can make a difference at the launch?
Mark Coker also recommended a best practice being to let our newsletter subscribers know that they could get the book, via preorder, at a reduced price.  My problem with that, though, is that most of my readers are buying through Amazon where the book wouldn't be available via low price or preorder.  I didn't really want any negative feedback on that, so I just decided to skip a newsletter mention of the preorder.
Both Draft2Digital and Smashwords say that the release date can be adjusted if, for some reason, we want to change it. That made me feel better, even though I'm used to working with deadlines.
I've put two Myrtle Clovers up for preorder on retailers other than Amazon…one is just 2 months away, the other is 10 months away.  I'll be watching to see how the experiment goes …both in the lead-up to the release and on launch day.  I'm especially curious to see if my footprint at these other retailers increases.
Have you put any books up for preorder?  Also, as a special note, I'm going to be doing a Q&A with ALLi founder Orna Ross Tuesday, October 20 at 3 p.m. ET about Wattpad. It will be live on Google Hangouts at this link. 
How and why to make our book available for preordering:
Click To Tweet
(Visited 58 times, 1 visits today)