By Elizabeth S. Craig, @elizabethscraig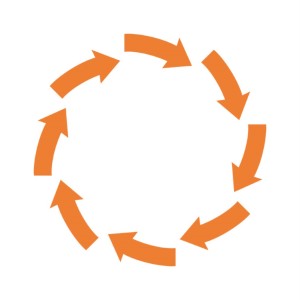 One of the things I forgot to mention in my "Time Savers for Writers" post was storyline-tracking for series writers. This is different from a series bible. My series bible has lists that include detailed character descriptions (down to birthdays, favorite foods, aversion to cats, and addresses) and setting information. This is more of tracking recurring motifs/elements/conventions in our stories.  Our own tropes for our books.
I almost hesitate to mention this because tropes are sort of an odd area for series writers.  But I've been surprised to find how much readers care about them.  I've accidentally—and occasionally purposefully—left out recurring storylines/conventions/gags from stories. And I've gotten dinged in reader reviews and sometimes via direct emails from readers for doing so.
And these are for books that function as standalones in my series. For writers who have series arcs…I can only imagine you're tracking those to pieces. This is just for the types of story elements that pop up in each book in a series.
I made a list of all the bits and pieces that I include in each series and was amazed at the number of items.  There were seventeen elements for just one series.  The list includes everything from my protagonist suffering epicurean disasters of epic proportions, to the hypochondriac sidekick, to the slothful housekeeper whose back is conveniently thrown when faced with challenging cleaning, to the garden gnomes that my sleuth pulls out  into her front yard when she's angry with her son.
I never really felt comfortable with my homegrown tropes. Part of me felt, maybe, that I was leaning on these recurring elements as a crutch. It's so easy to include them. I tried to be fresh and original in each book.
The problem is that readers don't necessarily want us to be fresh and original with each book. There's a comfort, maybe, in the series trope. Almost an inside joke?
I started thinking about all the recurring storylines and conventions that I loved in various book series and television.  I expected Hercule Poirot to be insulted when someone called him French. M.C. Beaton's Hamish MacBeth would  always desperately try to escape promotion and credit his successes to other policemen. I knew to expect elaborate scheming when watching I Love Lucy and Ricky's unintelligible English.  Jerry would always have a ridiculous reason for breaking up a relationship in Seinfeld.  In some ways, if there had been a break with series tropes in these shows, it wouldn't have made sense or been faithful to the series.  What if an I Love Lucy episode showed Lucy performing in one of Ricky's shows with no machinations behind the performance whatsoever? How bizarre would that be?
I've found listing these recurring subjects/gags/motifs very helpful. For one, they help me determine important elements in the stories. And if I'm considering taking my series characters on a road trip (like I did in Quilt Trip or in a book I'm planning on for next year for Myrtle), the list helps me incorporate elements as best I can while the characters are on the road.
I think there can be a danger in pandering too much to our homegrown tropes.  One danger is straying too far from the main plot or in bloating a book to include all the recurring bits.  Elizabeth George is one of my favorite writers, but I do see that she sometimes bloats a book to stuff in all the fun elements surrounding various secondary characters. There does need to be a balance there.
As a reader or TV viewer, what do you think of recurring elements in a book or show?  Do you see a pattern in yours? How many do you include in each book?
Using and tracking recurring elements in our books:
Click To Tweet
(Visited 500 times, 2 visits today)