by Elizabeth S. Craig, @elizabethscraig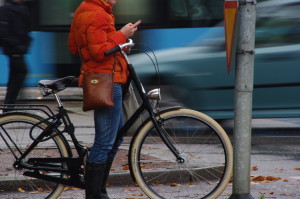 We had a winter storm in North Carolina a couple of weeks ago.  Winter storms in NC are a big deal.  There are a few reasons for that. For one, everything shuts down…there's no school, no businesses open, and no one at work.  Since these are rare occurrences in the  Charlotte area, there's not much in the budget for clearing the streets. So…the stuff sticks around until it melts. The problem is that it gets warm enough during the days (45-50 degree F) to melt and then goes back below freezing at night and refreezes the stuff. Then everyone slips all over the road on black ice.
My husband called me on his way home from work right before the storm hit and asked if we needed anything.  I said no, that I'd run a slew of errands all day and we were fine.
My teenaged daughter was listening to our phone  conversation.  "Why is Dad even asking?  Doesn't he know it's you? You're always prepared."
It's true that I'm a bit of a Girl Scout.  But then, I was a Girl Scout.
My daughter added something else.  "You're so organized that you're disorganized."
I had to think about that one for a minute.  But then I realized that she was right.  I have a tendency to get into a frenetic pace and hop from one task to another, remembering something that needs urgent (or seemingly needs urgent) attention right when I'm in the middle of another task.
It's multitasking. And, while I can multitask anything if vacuuming is one of the tasks, when it comes to things that require careful thought, I need more focus.  What's more, multitasking makes me stressed out and generally unpleasant to be around.  I've also learned that, for me, multitasking usually isn't as effective as focusing on and knocking out a single task.
Apps and Smart Calendar Use Help Avoid Multitasking 
Calendar: 
What's helping is my attempt to prioritize tasks and my (new) understanding that I need to assign some tasks farther into the future. For example, I saw a cool article by CS Lakin on Jane Friedman's blog and decided, "Yeah, this is really important. Have they changed the book description "show more" that much?" And I dropped everything and started working on it.  But I didn't NEED to. Everything isn't an emergency. I need to slow down this fast pace I'm setting.
This time, instead of multitasking or dropping one task to pick up another, I put it on my calendar to review on a future day.
The main tool that I use for keeping things on schedule is Google Calendar. It's free and, since I have it on my phone, I always have it with me. I particularly like the "week" view on the calendar. When I see an opening, I  click on the day to create an event, and then type in whatever task I need to take care of. This makes me feel relieved immediately–that I don't have to remember the task, and that I'm on my way to addressing it.
Apps: 
Another tool that I use for both general organization and my blog editorial calendar is One Note (which came included with my Microsoft Office bundle, but you can also download it…it's free).  Sometimes when I'm doing business-related work or working on my book, I will get ideas for things that I want to share on my blog.  That's when I add the post idea to a page in my Blog Notebook on One Note (One Note is set up with a notebook and page structure.  Although I like Evernote and use it for a lot of different things, for some reason the way you have to do "stacks" on Evernote doesn't work as well for me as the old notebook/page system in One Note.
A new app that I'm using is Remember the Milk.  It's free and integrates with online calendars like iCal and Google Calendar. You add tasks to be completed and a reminder will be emailed to you.  The tasks will also show up in the sidebar of your calendar.  I like the app and I've been using it for the past few weeks.  But I'm not sure it adds any additional functionality to my original system of adding tasks as events on Google Calendar. I guess the lesson there is…if it ain't broke, don't fix it.  But if you don't have an established method of handling tasks, I think this is a great tool to try.
Another free app/site I'm using is 135 List.  It helps me prioritize my tasks each day.  So far it's been a useful additional tool to supplement what I've already been doing. And it helps me remember what's most important to complete instead of my scrambling around thinking everything is an emergency.
So now I'm not so organized that I'm disorganized. :)  How do you keep your tasks straight and keep from getting overwhelmed with your workload?
Apps can help us avoid problematic multitasking:
Click To Tweet
Image: MorgueFile: Seemann
(Visited 58 times, 1 visits today)