By Elizabeth S. Craig, @elizabethscraig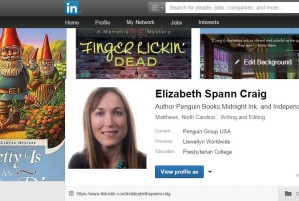 LinkedIn has always been one of the easier social media platforms for me to be a part of.  They make it easy to set it up and then forget about it.
From time to time I'd check the site, realize I had lots of invitations and messages (I had turned off notifications a while back when they  became annoying) and busily go through the mail.  But I hadn't done much actual updating.
I'm trying, this year, to incrementally keep up with the sometimes overwhelming demands of keeping up with different platforms.  I figured maybe some of you were in the same boat and would like to follow along. I mentioned Goodreads last time, and the updates I'd made there. 
When I checked in on LinkedIn a couple of weeks ago, I realized that there were plenty of areas that needed updating.  Here are some of the things I did (mostly general housekeeping):
I uploaded a background image.  I hadn't realized that LinkedIn even offered backgrounds.  Although it can seem daunting, I just used the free cloud-based Canva, which is my go-to for all basic design projects.  LinkedIn wants the image to be "File type JPG, GIF or PNG, no larger than 4MB, pixel dimensions between 1000 X 425 and 4000 X 4000."
I updated my bio and profile picture.  I'm now using a more general bio for some of these sites so that they don't get so quickly outdated. For instance, I don't mention my most recent release in my bio now.
I updated my publications, basically my book list.
I learned that you can upload blog posts to LinkedIn and it serves as a part of your overall portfolio there.  From what I was able to find out online, a best practice is to only update one a week at the most. Still, considering that my LinkedIn contacts (mostly editors, illustrators, cover designers, and other book people) frequently aren't people I network with on other platforms, I'm reaching new readers with posts I upload there.  Here are LinkedIn's tips for blogging there.  Some of them don't apply to me because… well, I'm not trying to get a job.  :)   It seems to me that they're recommending that our posts be less on specific topics there and more on the overall craft of writing or generalizations on the business, etc.
Other things to update are contact information, writing-related organizations we belong to, any honors or awards related to our writing, etc.
What do you do if you have a day job and also want to connect with the book world?  This is a good question and I'm curious what some of you are doing.  I do think, if you're trying to network or build contacts with writers and other publishing professionals, it's a good idea to at least mention your writing somewhere prominently in your profile. I know I've ignored a lot of invites from CPAs and realtors because I couldn't tell if they were writers and I'm mostly connected with people in the industry (a few friends and family thrown in there, too).
For a long time, I wasn't sure how LinkedIn really fit into my platform.  Now I realize that there are people there who aren't on social media any other place…this is the one way I reach them.  Not only that, LinkedIn has served to increase my platform locally, something that I haven't traditionally focused on.
Are you on LinkedIn?  Have you updated your information there lately?
Areas to update on our LinkedIn profile:
Click To Tweet
(Visited 52 times, 1 visits today)