by Elizabeth S. Craig, @elizabethscraig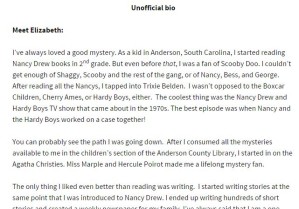 For years I've had the attitude that I was best connecting with readers through my stories. I still feel like that's true. They're getting a glimpse inside my head, inside my sense of humor, inside the way I see the world and other people through the books that I write.
For years, also, I've struggled with other methods of connecting with my readers in a natural way.   Facebook didn't (still doesn't) feel natural to me.  On other social media, I set up shop to connect with other writers. (If you ever want to find other writers to connect with on social media, just follow my Twitter followers).
Over a year ago,  I decided to make more of an effort to connect with my readers.  I had a few ideas for doing this, having been listening to writer podcasts and reading a good number of blog posts on the subject.
One thing that I did was to get on Wattpad.  Wattpad is an international community of readers.  Writers (as a best practice) upload chapters serially, once a week.  Readers, primarily on mobile devices, comment inline on stories, remarking on what interests them, amuses them, scares them, etc. It creates a very natural setting for conversation between author and reader.  At first, it was a little new and uncomfortable for me, but I gradually came to enjoy the interaction there.
I also tried to be more approachable on Goodreads by signing up for their author Q&A function and updating my profile on the site.  Like doing yard work, updating our presence on these sites signals that we care.
Another idea I got from viewing successful authors' websites.  Many of them had an official bio on their 'about' page (as did I…a clipped and professional paragraph about me), but then they also had an unofficial bio that was warmer and more personal.  I tried it and got an email from a North Carolina book club a few days later–talking about how much they also loved Nancy Drew as kids and asking me to come speak to them. So, maybe these types of bios can make writers seem more approachable and less distant?
Possibly the biggest thing I did was to add author notes to the backs of my books. This was also, perhaps, the easiest and most natural effort on my part.  After all, I was used to connecting with readers in my books. It was simple to add a note at the end of the books to say a few words about some of my inspiration for the story.  I even added those notes to my Amazon product page for one of the books (in my editorial reviews section, under the reviews. I added "From the Author") .  When I went back into my published files to update my list of published books, I added author notes at the same time.
These techniques were easy ways for me to feel more connected and more approachable to my readers.
How do you connect with your readers?  Do you connect through social media or use other methods?
Tips for easy connection with our readers:
Click To Tweet
(Visited 42 times, 1 visits today)