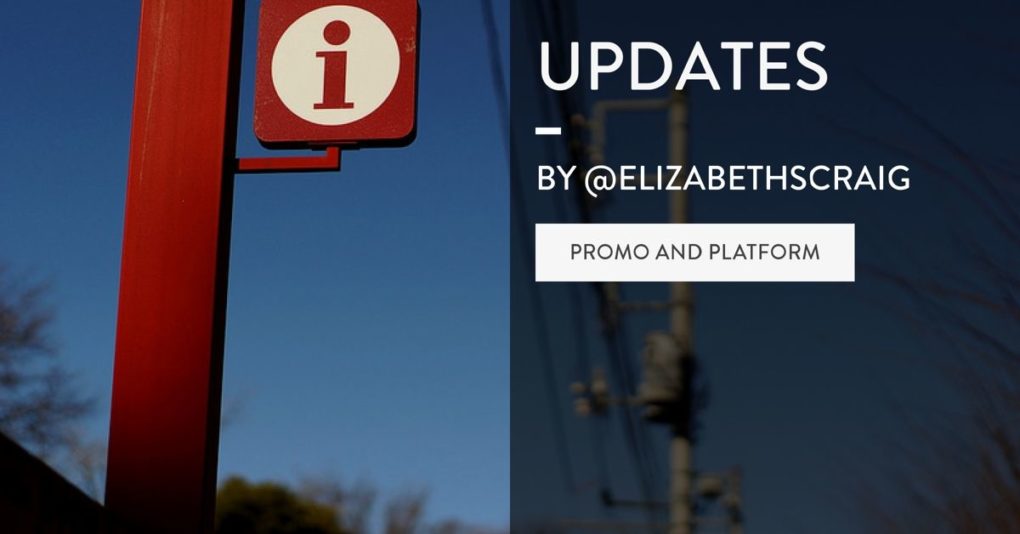 by Elizabeth S. Craig, @elizabethscraig
Here's an update on promo approaches,  platforms, etc.  that I've been working with.  Not only does this type of post help me assess what's working, hopefully you might be able to find something here to experiment with, yourself.
ACX:  This remains an important platform for me (audiobook).  I think I'm just lucky to have gotten an excellent narrator there, Judy Blue.  I was at an event in western North Carolina in late-summer and a lady came up to tell me how much she enjoyed Judy's voice acting. It really helped me realize how widespread audiobook listening is and how readers rely on it as a way to enjoy books.  I know many authors have seen a drop-off in royalties because of royalty restructuring there.  I have too, but I have so many books on the platform that it's still a nice source of income for me.
MailChimp: Many more subscribers.  Some is due to participating in group contests, some due to the freebie for signup that I offer.  I've also done a better job updating my back matter in older books to mention my newsletter.
Speaking of updating books, I recently updated a slew of books for back-matter and for random typos.  I've found it's just easiest to correct a Word doc, upload it to Draft2Digital, check the mobi and epub versions, download the PDF, and then upload it to Amazon and CreateSpace (letting D2D distribute everywhere else).
Distribution: I'm leaning more heavily on Draft2Digital as opposed to Smashwords these days, mostly because I find the process and interface both streamlined and easier at Draft2Digital.  And, if I run into a problem at D2D, I have quicker, better support.
Wattpad:  I'm continuing publishing serially (these are books that have already been published…I'm not writing serially, I'm just publishing serially) on this platform.  I can look at the map of my readers and see that I'm growing an international audience and reaching a more youthful audience. I took a break over the summer and had quite a few readers there ask me when I was going to upload another story. Since I have an unusual series for the site (an octogenarian protagonist where many Wattpad users are under the age of 18), this was another encouraging sign.
Print:  Again, a nice source of income.  I use both CreateSpace (US print sales) and Ingram (international).  For my last reporting period, I actually made a great deal more from Ingram than CreateSpace. This may be related to the fact that now my print books are less expensive to obtain (Ingram has international printers).  I'll be interested to see if that continues.
ISBNs:  I just bought 100 more. I do need them for Ingram and I'm just too old-fashioned, besides, not to get them.
Booktrack: I've got my cozy zombie book on Booktrack–a platform that matches a music track with the story, keeping pace with where the reader is on the page.  Up-tempo for exciting parts, sound effects, etc.  I  haven't seen a lot of sales here, but I feel like it's important to make my book available on platforms where someone may discover it. It's also available in a different audio format: read by narrator Julia Farmer.
Library Self-e (and Indie Author Day): I love having my books available in libraries.  For me, discoverability is incredibly important and having readers discover them in libraries means they may try to buy others.  The connection between Self-e and local libraries is also a good way for authors to be known locally–I enjoyed the Indie Author Day event put on by an area library.
Patreon:  I finally set up a profile with Patreon (a crowd-funding platform), after reading this post by John G. Hartness on his success there.  So far I haven't gotten any traction there, but there was some sort of glitch with the site (I know, not very encouraging) and my entire profile and even my login disappeared. It popped up again after I opened a ticket with their support.  I have linked to it on Wattpad and in my back matter for books I've updated and upcoming books.  As I write this post, I can't find my profile there by searching for it, although the link now takes me directly to it. Odd.  May need to open up another ticket there.
LinkedIn SlideShare:  I decided to repurpose some of my powerpoint presentations by putting them up on LinkedIn's SlideShare, which is their presentation channel. This ties in with another thing I've set up recently: my speaker page.
Speaker page:  It's generally recommended that authors who are interested in getting more speaking engagements need to indicate on their website that they are available and interested in speaking.  :)  I was slow to do this, but I've gone ahead and set up a special page on my site. Nothing fancy.  I also listed my speaking in my LinkedIn summary, as I've read it's important to do. We'll see how it goes.
This is all I've got right now.  Actually, looking at my list, it sort of makes me feel tired!  Just know that these are things I research and set up a very little bit at a time.
What have you been experimenting with lately?  Any tips for us?
Updates on promo and platform experiments for writers:
Click To Tweet
Photo credit: ai3310X via Visualhunt.com / CC BY
(Visited 187 times, 1 visits today)