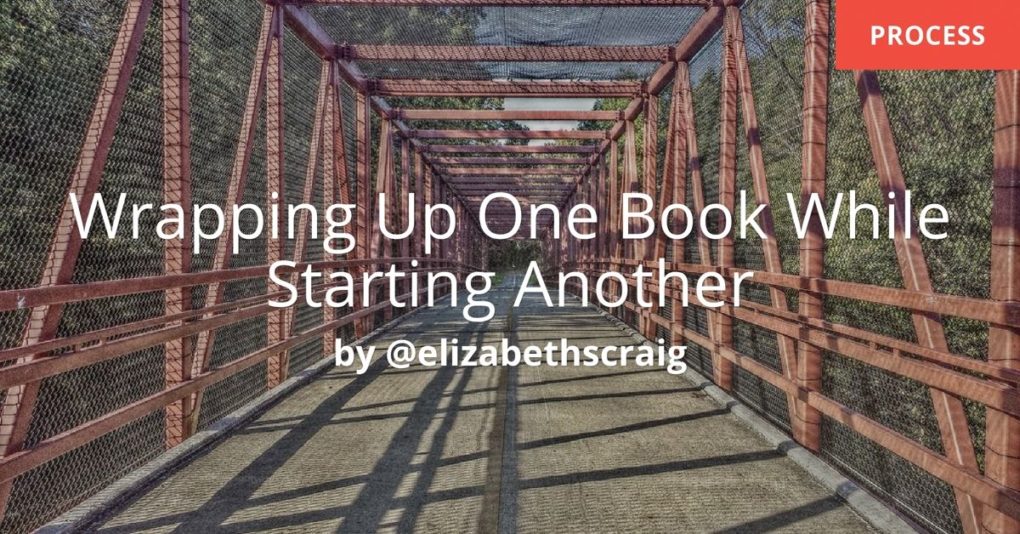 by Elizabeth S. Craig, @elizabethscraig
Some of my more popular posts have to do with something pretty ordinary and (unfortunately) boring … process.
Everyone's process for writing and publishing books is different. Maybe that's why we're curious about what works for other writers.  I know I like reading those types of posts, too.  I never know when there's something that might be helpful to try or something that I could work into my own writing process.
Keeping all of that in mind, I thought I'd share my own process for finishing a book and starting another book. It's fresh in my mind because that's been my last couple of weeks (some of this I touched on in last Friday's post).
The process for the book that's releasing
While the book is in edits, I start loading the book and the book's metadata up on distributor and retail sites (which can be, if you use a lot of distributors, something of a tedious process).
I draft a newsletter to announce the upcoming release.
I make sure the book is linked to the rest of the series on Amazon and other retail sites.
I update my website, LinkedIn, and Goodreads.
The process for the next book in that series
Whatever book I've just finished, I start immediately outlining the next book in that same series.  I've found this is a big time-saver for me because my head is still in the series. It takes a lot less time to create situations for the characters to respond to, etc. 
The outline is nothing fancy. This is my template for it:
Title
Back Cover Copy
Victim #1
Weapon Used
Suspects
Second Murder Method
Victim #2
Killer(s)
Red Herrings (false leads)
Subplots/series memes to work in
After 1st murder: Interviews
Suspect 1 interviewed…suspect points to ____, suspect's alibi: _____, suspect's lie____, suspect's truth____
(rest of interviews of 4-5 suspects, same set-up)
After 2nd murder: interviews:
(Same set-up as before, with added opportunity to defend/explain any false alibis from 1st murder)
Moment of danger:
Clues that pointed to killer:
As you can imagine, filling out something like this is less daunting than a blow-by-blow outline. And yet this was acceptable to Penguin back in the day, too, so there was enough meat there, too to satisfy their requirements (their review of my outlines was in my contracts).
I write the back cover copy for the book I'm outlining.  As you can imagine, it's fairly vague, but with cozy mysteries, this is not a problem.
I commission a cover during this time from my cover designer. Not only have I learned that it's best to get covers early, it helps me to visualize the project and stay on track better.
I register the ISBNs for print, Kindle, and epub versions on Bowker for the project (which will, technically, be completed after I write a book in the other series I work on).
I upload the new cover and cover copy to my website on the 'Coming Soon' page.
Once I'm finished with the outline, I move right on to write the next book (which, in my case, is always with the other series I'm writing–the one I'd have already outlined after finishing a story in that series). This may sound more confusing than it actually is.
What's your process like with finishing a project and starting another? Mine is pretty rushed with not much room for celebration (the downside), although it's easy enough to be automatic by now.  Do you have more of a time buffer?  What works best for you?
Finishing one project while starting another: the process:
Click To Tweet
Photo credit: Jamie Zeschke via Visual Hunt / CC BY
(Visited 286 times, 1 visits today)