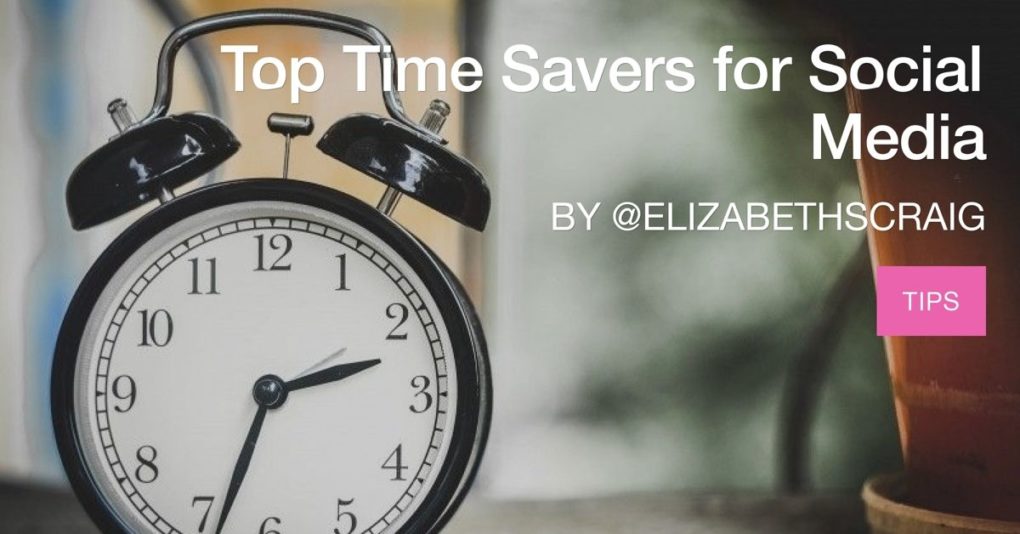 by Elizabeth S. Craig, @elizabethscraig
The biggest complaint I hear from writers is that there aren't enough hours in the day to do all that we need to do.
Tasks facing writers include reading publishing-related news, doing research, promoting, updating websites and social media…on top of working on our books.
And most everyone is doing the above in addition to a day job, parenting, or caregiving.
It's a lot, for sure.  The only thing that I can recommend is that we save time where we can.
With that in mind, I'm sharing my own biggest ways of saving time.  With these methods I give myself more time to do…whatever.  It could be more time to write, more time to do housework/cook/run errands, more time to spend with my family.
I started to include all of my tips in one post, but realized it was far too long for a post. I've divided them up by category: social media and blogging, writing, book production, and general tips.  I'll run this series on Fridays for the next month.
Social Media
It's commonly referred to as a time suck and it certainly can be. For this reason, I keep myself off of social media as much as I can. If I spent as much time on Twitter as I appear to, I'd never get anything done.
I schedule social media shares. There's a whole line of thought against doing this that revolves around the fact that this is a less-authentic approach to social media.  I get that, but I only think it's applicable if you're spamming everyone with your book release. I'm sharing helpful information and resources for writers, and at 12-15 shares a day, I'd rather not pop on Twitter each time I do so.
My favorite tool is Hootsuite for wrangling social media.  I use the pro version, but only because I use their bulk upload feature.  The free version works well. You can schedule shares for the week on nearly every social media platform you'd like (Instagram is oddly resistant to this, but there are other ways to schedule to Instagram).
You can also configure Hootsuite to track certain keywords for you (helpful if you're researching a book or trying to learn a new promo approach).  You click "add a stream" and then click the "keyword" tab to set this up.
Twitter lists: This one is platform specific. I think a lot of people miss the point about Twitter and come away feeling frustrated. Its most helpful purpose is as a means of sharing information.  And you can configure it to share what you find most helpful by using Twitter lists.
Click on your profile picture, then click 'lists.'  In the sidebar on the right, you'll see 'create new list.' Then you can add people or organizations that you follow.
Instead of looking at your home screen for Twitter, go to your lists to monitor what you've found to be your most helpful follows.  I have one that's for writers and industry pros who post interesting information. I have several lists that I subscribe to that originated with others (this is a nice shortcut–just subscribe to some other writer's list).  I also have a private one that helps me follow events at my child's high school. You never have to go to your crazy, spammy, headache-inducing home screen again, if you don't want to.
Sharing blog posts: I automatically share my blog posts on both Twitter and Facebook.  For Facebook, I use the "Facebook Auto Publish" plugin for WordPress and for Twitter, I use Hootsuite.  Otherwise, I tend to forget to share my posts to a wider audience.
Writing blog posts:  I found that I don't really have the time to sit down at the computer and think up a blog post the day before running it.  The brainstorming just eats up too much of my time.  I've found that it's better if I take a longer period of time and carefully plan my posts for at least the next month (the schedule can always be altered for guest posts or for a post that's more time-sensitive).
Reading blog posts:

I curate links for writers, so I read a lot of blogs. But you may find an RSS reader helpful for many reasons–maybe you want an organized format to follow publishing news or writing craft news or even to get recipes from cooking blogs. An RSS feed reader (I use Feedly) helps with this.
Feedly is free to use and you can divide your feeds by category (writing related, publishing related, publishing news…and even personal: parenting blogs, recipe blogs, etc.) . To add a specific blog to your feed reader, you can either add content from inside the feed reader (by web address or keyword) or you can add it by clicking on the RSS feed button on the blog you're interested in adding (for instance, I've got the orange RSS feed button as the first button on my 'subscribe' section on the top right sidebar on this page). It's a helpful way to visit blogs of writers you follow as well as an organized and quick way to access information and resources.
How do you save time on social media or as a blogger? What have I missed?
Top time-savers for social media and blogging
Click To Tweet
Photo via Visualhunt.com
(Visited 348 times, 1 visits today)