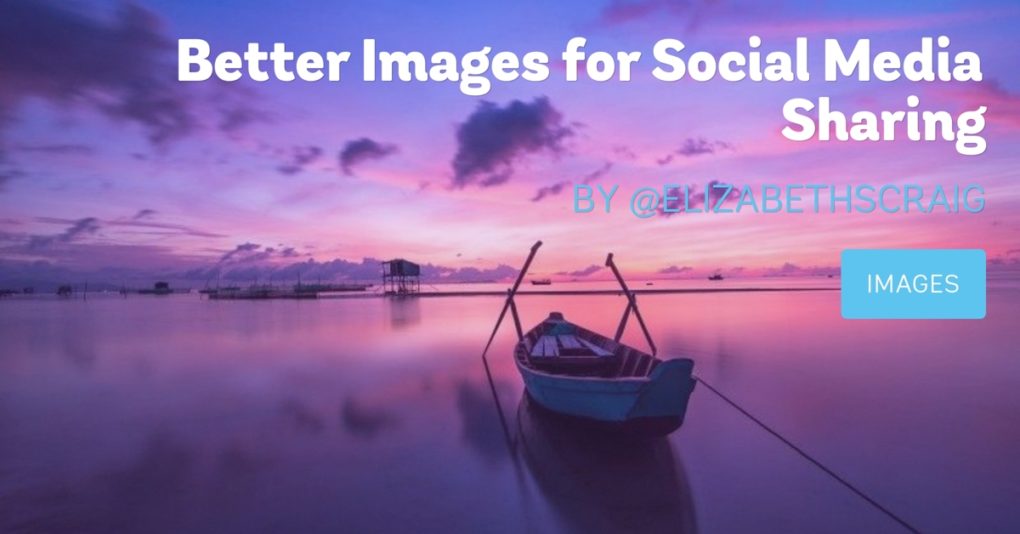 by Elizabeth S. Craig, @elizabethscraig
For a long time I was oddly resistant to rethinking the way I approached images on my blog.
I knew there was a better way than the method I was using, but I didn't want to find the time to figure it all out. I also am terrible at design.  Additionally, I didn't really see what the big deal was, although I kept reading that better use of images can help us in terms of sharing. Images can give a post more views, especially on platforms like Facebook.
I finally got the memo when Twitter suddenly got more visual.  I also noticed that when I'd share links on Twitter, if the image on the writer's post was optimized, it would automatically share the image with the text of the tweet.
I have a feeling that my process here is slightly convoluted, but I'll share it anyway, along with resources that I know of to make better blog (and other platform) images.
Finding an image:
There have been plenty of cases where bloggers have been the subjects of lawsuits for using images on their blogs. Using Creative Commons photos or images that you've purchased is vital.
Right now, I'm  hooked on Visual Hunt.  I can search a wide variety of permission-free images there and can copy-paste the attribution for the image easily.  I download the image to my computer.
Other places I've used in the past for permission-free images are MorgueFile and Death to the Stock Photo (which sends you 'photo packs' every month to download).  Frances Caballo shares other good ideas  in her post "Blogging Got You Down? Follow These 6 Steps."
Designing the image (putting text on the image, etc.) 
Once I have my image, I open up Designfeed, the free design program I'm using now.  I also like Canva for creating images, but the thing I prefer about Designfeed is the fact that I can choose the size I'd like to download–and the app lists the sizes to make it easy: Facebook, Instagram, Twitter, etc.
Designfeed also has a free image search. The only thing I had reservations about was the fact that I had no idea who to attribute the images to or whether the images were genuinely copyright-free.  That's why I take the extra step of using Visual Hunt. I upload the image to Designfeed, add my text, and download the resulting image in the size that's best for the platform (I think the Facebook size works best for WordPress, fyi).
Compressing the finished product
Since the end product is a pretty large image, I compress it using the free tool compressor.io .  It doesn't result in a lower-quality image or a smaller image,  but a much smaller file size in terms of kilobytes used. This helps keep my blog's load time shorter.
Uploading to the blog/platform
Finally, I upload the image to WordPress, using the large size.  I make sure to give photo attribution at the bottom of the post.  When I load the image, I'm sure to include alt text to help visually impaired readers as well as for SEO purposes (more on alt text from Yoast and Google guru Matt Cutts).
That's how I do it.  How about you? What tools do you use to include images on your blog posts or social media? What's your favorite place to find images?
How to Create Better Images for Social Media Sharing:
Click To Tweet
Photo via Visualhunt.com
(Visited 230 times, 1 visits today)