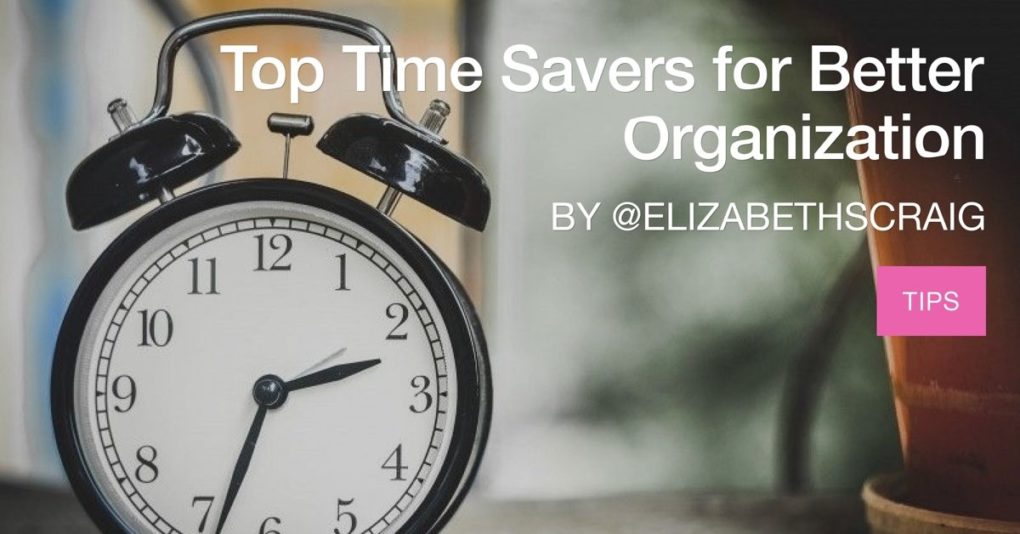 by Elizabeth S. Craig, @elizabethscraig
This is the last post of the time saving series. You can find the first post here (on social media), post two here (on saving time writing), and the third post here (on book production). Today, I'm focusing on general organization. I've found if I'm better organized, I can free up more time for writing.
If you're anything like me, you've got tons of information to organize and work through. It could be writing craft posts. It could be research for your book. It could be ideas and images for blog posts.How do you store this information so that you can easily access it?
I use a couple of different tools for organizing information: one is Evernote and the other is OneNote.  Both are free (Evernote has a paid version if you're an especially heavy user).  This post will include both the writing-related and personal uses of the apps because, in my house at least, if I'm not organized with both home and writing it impacts my writing time.
I've been using both for so long that I don't want to combine data into just one of the apps, although that would work well, too.  I've also liked dividing up information between the two applications.
I tend to use OneNote to store text.  I store all types of documents in OneNote, from my kids' school transcripts, to vet visit info, to book-related information and research. I scan all those bits and pieces of paper that come into our house from doctor appointments,  school, etc. and put them up on OneNote, which is searchable. In most cases, I'm able to get rid of the bits and pieces of paper afterward.
For Evernote, I save things from the web (and I know I'm underutilizing it. It's even got integration with Google Drive now).  This includes the writing craft posts that I refer to again and again, but it also includes a large collection of recipes (divided into favorites, things to try, low-fat, gluten-free, etc.)  I save online receipts for Christmas purchases there, divided by family member: last year, for instance,  I had Christmas 2016 and a note for each person I've purchased for, including the receipts and websites I used. I've been doing this since 2012 and it's been a great way not only to track what I've given people, it's also a good way to get ideas for future gifts for them (maybe they've run out of their favorite treat, maybe the guest towels I gave them in 2012 are tired out by now).  I keep vacation planning research there, too.
For both applications, I can access my notes remotely, on my phone. This is great for when I'm writing on the go or when I'm at the grocery store and can't remember the ingredients for the meal I'm cooking that night.
Besides using apps to stay organized, I'm also using task batching to save time and increase productivity.  For blogging, I'll set aside time to brainstorm blog post ideas. Then I'll set aside time another day to find and alter images for posts.  Another day I'll organize my blog's editorial calendar.  Sometime later, I'll write or at least draft several posts.  By putting myself in the mindset and then doing a 'batch' of similar work, it helps me to stay focused and more productive. For more information about task batching, read this post by Jennifer Mattern: "How I Use Task Batching to be a More Productive Writer."
What are some of your tips and apps for staying organized and more productive?
Tips and resources for better organization:
Click To Tweet
(Visited 300 times, 1 visits today)