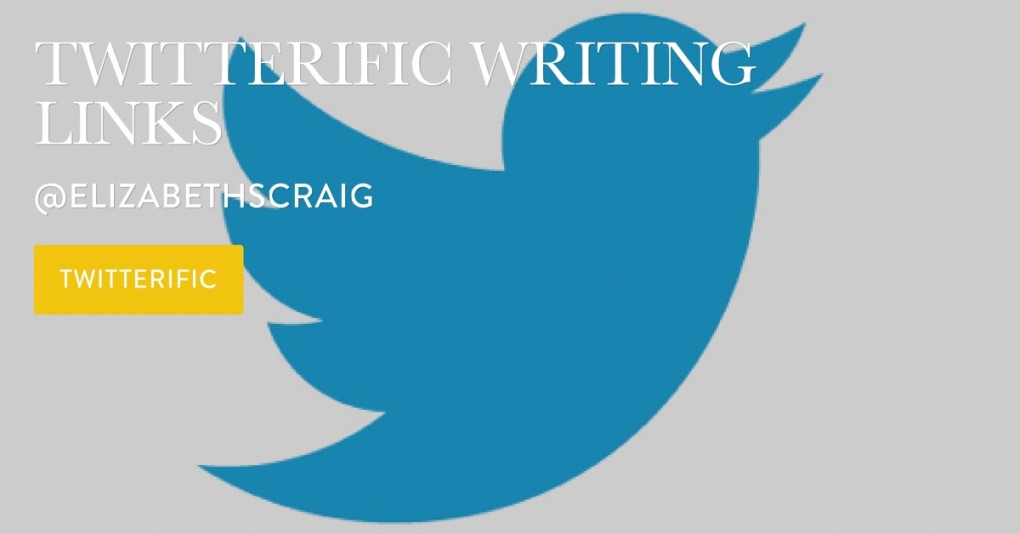 by Elizabeth S. Craig, @elizabethscraig
A weekly roundup of the best writing links from around the web.
Twitterific writing links are fed into the Writer's Knowledge Base search engine (developed by writer and software engineer Mike Fleming) which has over 39,000 free articles on writing related topics. It's the search engine for writers.

Business / Miscellaneous
Conferences and Events / Miscellaneous
Creativity and Inspiration / Goal setting
Creativity and Inspiration / Inspiration / Reading as Writers
Creativity and Inspiration / Miscellaneous
Creativity and Inspiration / Productivity / Fitting in Writing
Creativity and Inspiration / Productivity / Writer's Block
Creativity and Inspiration / Success
Creativity and Inspiration / Writing Life
Genres / Fantasy
Genres / Horror
Genres / Memoir
Genres / Mystery
Genres / Poetry
Genres / Romance
Genres / Short Stories
Promo / Blogging
Promo / Book Descriptions and Copywriting
Promo / Book Reviews
Promo / Book Signings and Launch parties
Promo / Box Sets
Promo / Miscellaneous
Promo / Social Media Tips
Promo / Speaking
Publishing / News / International Publishing
Publishing / Options / Self-Publishing
Publishing / Options / Traditional Publishing
Publishing / Process / Book Design
Publishing / Process / Formatting
Writing Craft / Beginnings
Writing Craft / Characters / Antagonists
Writing Craft / Characters / Arc
Writing Craft / Characters / Development
Writing Craft / Characters / Emotion
Writing Craft / Characters / Supporting Characters
Writing Craft / Common Mistakes
Writing Craft / Diversity
Writing Craft / Humor
Writing Craft / Lessons from Books and Film
Writing Craft / Miscellaneous
Writing Craft / POV
Writing Craft / Pre-Writing / Plotting
Writing Craft / Punctuation and Grammar
Writing Craft / Revision
Writing Craft / Revisions / Critiques
Writing Craft / Settings and Description
Writing Craft / Tension
From my Blog
The top writing links of the week are on Twitterific:
Click To Tweet
(Visited 334 times, 1 visits today)