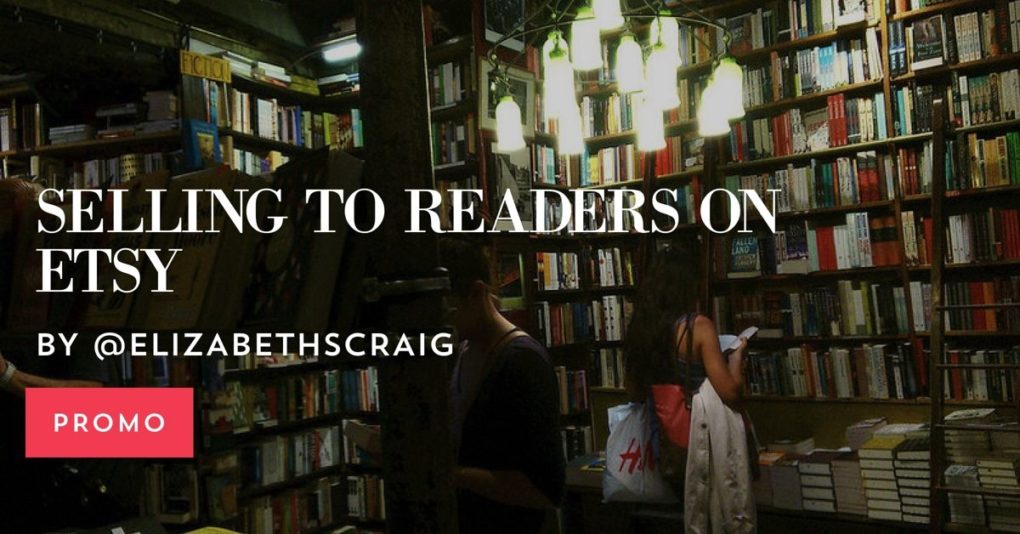 by Elizabeth S. Craig, @elizabethscraig
I've always heard that smart writers think beyond the story in terms of book marketing. Publishing expert Richard Nash has called it the"commodification of the book" as cited in this interview with Jane Friedman.  He mentions methods of connecting with super fans in the post. But I was always more interested in the personalization of books (signed copies, personal inscriptions) or maybe book-related merchandise.
In a recent Facebook post, Mark Williams of The International Indie Author mentioned selling on e-commerce site Etsy.  I had never in a million years considered making my books available on Etsy. Etsy is the site where I buy crafts and jewelry for my daughter or sister or other family member. And yet…I know writing is a craft. Somehow it just didn't connect with me that I could set up a shop there.
Things to consider: 
There are points to consider when you're listing your book.
For one, you can go the non-personalized path and choose to list digital copies of your books–they will deliver those.
But to me it makes much more sense to list printed books that can be signed and/or personalized.  You could also create a bundle for a special rate.
When considering pricing, you need to factor in your own costs.   How close are you to the post office? How much will shipping materials cost you? How much do the books cost you to receive from CreateSpace (including shipping).
Setting up the shop: 
It's pretty easy to set up a shop there. If you're familiar with any social media platform at all, the process at Etsy will seem fairly intuitive. I set mine up in probably 30 minutes and I've no talent in the design arena. (You can see my shop here, if you're looking for an example).
You set up a header at the top of the page, an avatar for your shop, and upload your ('owner") profile.
You pay attention to keywords that will help your shop get discovered.
You can copy/paste your About page to Etsy and add pictures of you at work writing, at events, etc.
You list where you can be found around the web.
You can upload videos to the site.
Etsy helps with calculating shipping and your shop policy/return policy.
I'd recommend taking each of your books, in the packaging you plan on using, to the post office to weigh each one to make sure Etsy's shipping calculator is accurate for readers.
Fees for Selling on Etsy
You can find a listing of all their fees here. Basically, it's 20 cents a month for each item you list and then 3.5% of the selling price of whatever we sell. That commission they take is pretty small, compared to Amazon, for instance.  Here is Etsy's Seller Policy.
Unfortunately, as of the writing of this post, I haven't yet made any sales. But I haven't promoted my shop there, either. I plan on listing the link on my website and social media when I get the chance.
Do you sell autographed books or merchandise to readers? Are you on Etsy?
Photo credit: indrarado via VisualHunt / CC BY-NC-SA
(Visited 771 times, 3 visits today)