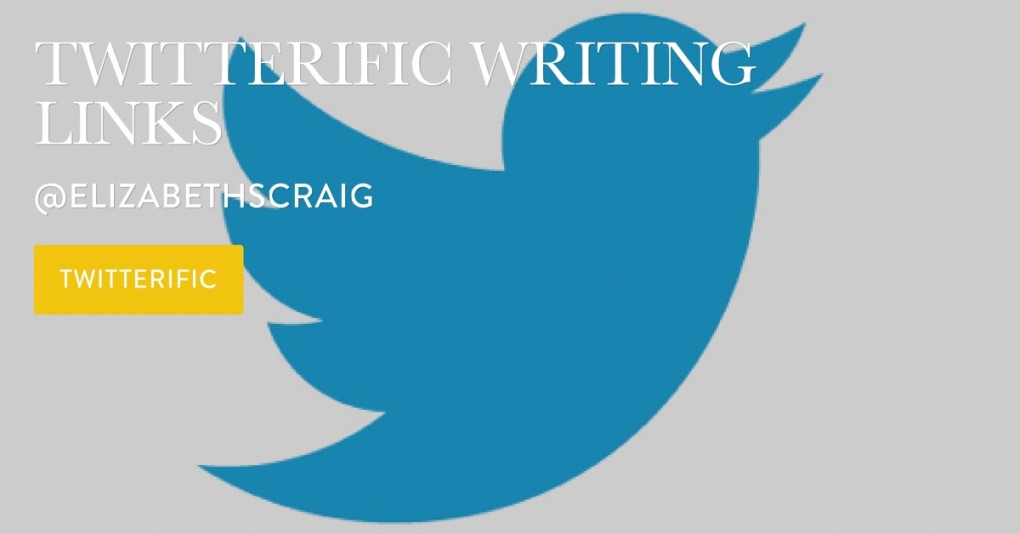 by Elizabeth S. Craig, @elizabethscraig
A weekly roundup of the best writing links from around the web.
Twitterific writing links are fed into the Writer's Knowledge Base search engine (developed by writer and software engineer Mike Fleming) which has over 40,000 free articles on writing related topics. It's the search engine for writers.
Have you visited the WKB lately?  Check out the new redesign where you can browse by category, and see the character and location name generators! 
Business / Miscellaneous
Conferences and Events / Miscellaneous
Creativity and Inspiration / Inspiration
Creativity and Inspiration / Parenting and Writing
Creativity and Inspiration / Perfectionism
Creativity and Inspiration / Productivity / Writing Quickly
Creativity and Inspiration / Writing Life
Creativity and Inspiration / Writing Spaces
Genres / Mystery
Genres / Non-Fiction
Genres / Poetry
Genres / Romance
Promo / Ads
Promo / Back matter
Promo / Connecting with Readers
Promo / Miscellaneous
Promo / Social Media Tips
Promo / Speaking
Promo / Websites
Publishing / Miscellaneous
Publishing / News / International Publishing
Publishing / Options / Traditional Publishing
Publishing / Options / Traditional Publishing / Rejections
Publishing / Process / Author Assistants
Publishing / Process / Distribution
Publishing / Process / Formatting
Writing Craft / Beginnings
Writing Craft / Characters / Development
Writing Craft / Characters / Emotion
Writing Craft / Common Mistakes
Writing Craft / Dialogue
Writing Craft / Flashback and Back Story
Writing Craft / Lessons from Books and Film
Writing Craft / Miscellaneous
Writing Craft / Pre-Writing / Naming
Writing Craft / Pre-Writing / Outlining
Writing Craft / Pre-Writing / Plotting
Writing Craft / Pre-Writing / Research
Writing Craft / Punctuation and Grammar
Writing Craft / Revision
Writing Craft / Revisions / Critiques
Writing Craft / Scenes / Conflict
Writing Craft / Settings and Description
Writing Craft / Special Needs
Writing Craft / Tension
From My Blog and Uncategorized
The top writing links of last week are on Twitterific:
Click To Tweet
(Visited 363 times, 1 visits today)