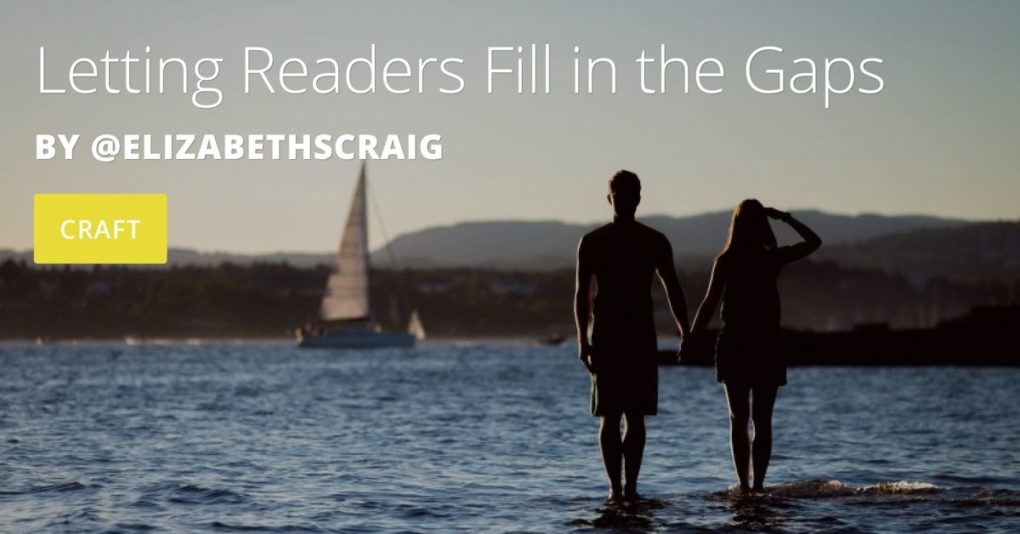 by Elizabeth S. Craig, @elizabethscraig
I read a nice post by Nils Ödlund, "Don't Show, Don't Tell — How to Leave Room for the Reader's Imagination " on the Mythic Scribes blog.
As he says in the post: "…I'd like to explain why the reader's mind is so strong: it's because they put something of themselves into it. They use their own experiences, expectations, and associations to create the image, and this make it theirs. It becomes more personal; making it easier to understand and to believe in."
Twice recently, I've been surprised by readers with compliments on my character descriptions.
One woman said, "I could see her perfectly. She was just like my Aunt May."
I strongly suspect that the woman simply filled in the gaps of my description of the character herself. That something in the character's dialogue or manner revealed itself to be similar to her aunt.
I don't like to over-describe…anything, really. I was prompted for more detailed description in the Southern Quilting series because that was part of the cozy brand for Penguin's craft cozies.
I've written on this subject before, but the reason I want to again is because writers can worry a lot about descriptions. They can overthink them.
I'm not saying there aren't books that are better served with a lot more description than mine have. But with a few telling details or broad brushstrokes, you can give the readers more than enough to go on. And you don't have to stress yourself out in the process.
A couple of telling details are helpful. A sour expression, hooded eyes, a condescending smile, a galloping gait, a braying laugh.
You can also describe characters indirectly, letting readers draw their own conclusions based on character dialogue and other characters' observations about him. Or by describing the character's house or car, letting readers know how tidy he is, or whether he owns expensive things, or doesn't have enough food in the house.
As a reader, I tend to skim over extra character or setting description. I'm not looking for a dump of physical characteristics that I won't remember.  I'm looking for insight into the character or at least some sort of quirk or detail that will help me to remember him while he's offstage.
I like this article from writer Ali Luke: "How to Write Character Descriptions that Work" (she also agrees with the minimal approach).  She gives a helpful list of description dos and don'ts, including "try describing one character through another character's eyes" and "with any kind of description, word choices matter a lot."
You can find more resources for writing description in the WKB "settings and description" entries.  Or sign up to receive articles on the subject via email.
What's your view on description as a reader and writer?
Tips for writing minimal character description:
Click To Tweet
Photo via Visualhunt
(Visited 231 times, 1 visits today)