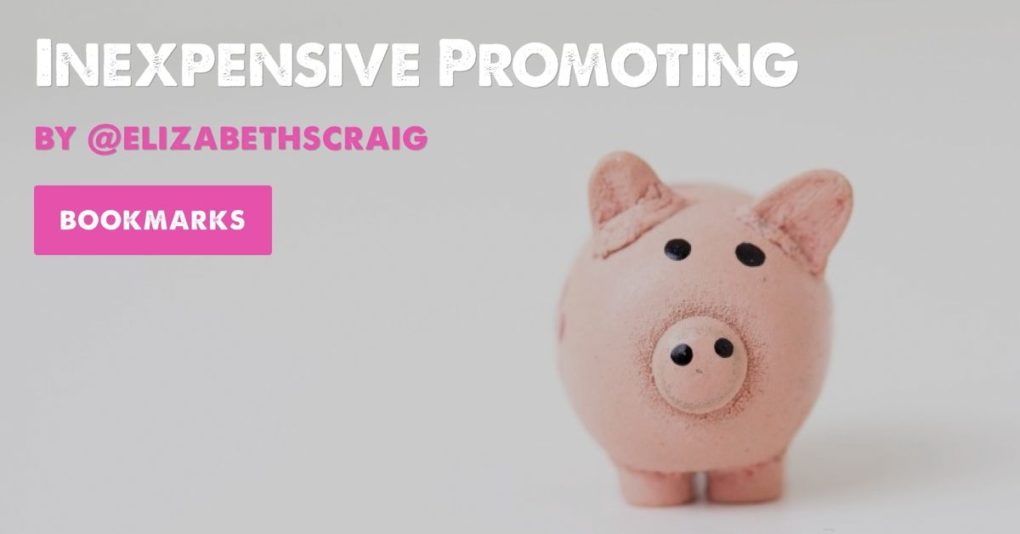 by Elizabeth S. Craig, @elizabethscraig 
Anyone familiar with this blog knows that I'm not a fan of old-fashioned promoting. I think I've sold a lot more books by using better book metadata and following best-practices for SEO on my book pages on my website.
But sometimes…you've got to promote the old-fashioned way. In my case, it's usually by request.  My audiobook producer is big into old-fashioned promo: going out into bookstores for events, doing book tie-ins, and that type of thing. He's really, really good at it. In the past, he's asked me for free printed copies of my books to tie-in with the audio versions for giveaways at all kinds of special events. I've sent them over to him…just very happy that I wasn't doing the promo legwork myself.
It's expensive, though. Even getting the author copies from CreateSpace.  There's the buying of the books, and then the shipping of the books.  If you're talking a fair number of books or doing something regularly, it does add up.
This time I told my producer that I'd like to do something a little different (and basically free on my end).  I used Canva to design bookmarks especially for my audiobooks and then added an Instafreebie code to provide a free ebook. Realizing a lot of other writers might be going to summer events, I thought I'd share what I did. (And I used to be a VistaPrint customer…nothing wrong with that, except this particular project required immediacy. I couldn't wait).
We decided to have the giveaway for "Murder on Opening Night," which won an AudioFile Earphones Award because of the excellent narration of Judy Blue.  Because my books are written as standalones, reading the books out of order isn't an issue.
I pulled up Canva, a free online tool that I use to combat my severe design disability.  They have lots of different templates for different types of projects.
Here is the template for bookmarks. 
I uploaded my book cover and put it at the top of the bookmark.  I changed the background to red to match the curtain on the book cover.
I added some text, mentioning the award-winning narration by Judy.
I added a bit more text, giving a code for receiving a free book from Instafreebie.  Instafreebie is also free (unless you choose to have your email list tied to their site so that readers can sign up for your newsletter when they claim their free book).  You upload an epub of your book and then can generate codes for free copies (you can limit the number that are given away, too, in case that code gets shared online, etc.) More instructions and info on Instafreebie here. 
One of the things I like about Instafreebie is that they offer customer support for readers who might not be tech-savvy enough to know how to upload books to their devices.
My project ended up looking like this (basic, but hey…free):

To email it to my producer, I downloaded the bookmark as a jpg, opened a fresh Word doc, put it in landscape mode, adjusted the page margins to be very wide, and copied four of the jpgs across the page.
The Instafreebie share code was long, so I ran it through bit.ly to shorten it for my purposes.  I attached the Word doc in an email and sent it to my producer.  He can either print them at home (if he has a printer that can handle cardstock) or take it to an Office Depot or Staples store to have them printed and cut there.
What's your favorite inexpensive way to promote?
Tips for Creating Inexpensive Bookmarks as Part of a Giveaway:
Click To Tweet
Photo via Visual Hunt
(Visited 245 times, 1 visits today)