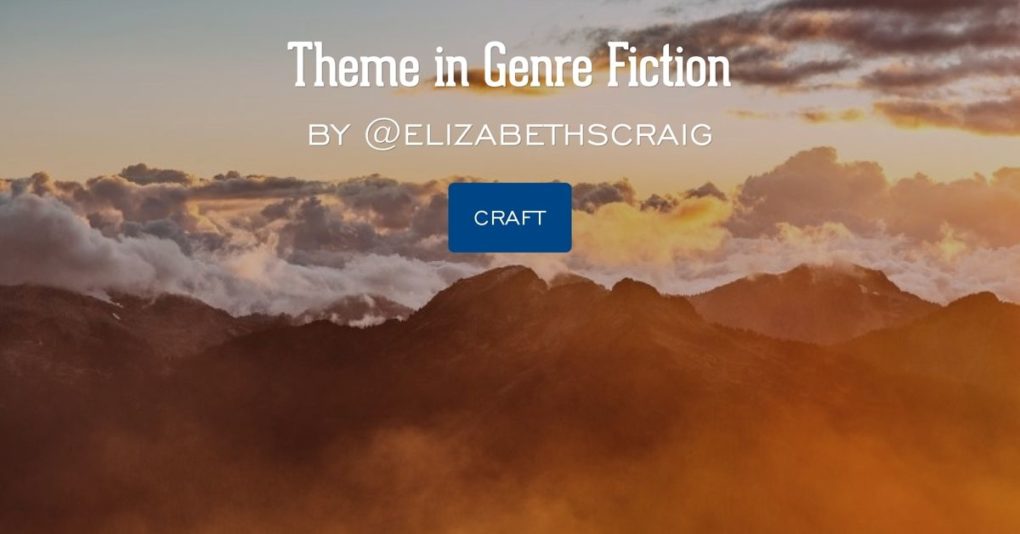 by Elizabeth S. Craig, @elizabethscraig
Years ago I was stumped when I received an email from a middle school student. He was reading one of my books for a school assignment (this, in itself, was startling), and he was trying to figure out what the theme of the book was.  I guess he decided to cut to the chase and just ask the author directly. Because surely the author would know.
But the book was simple crime fiction. Cozy crime fiction. Maybe this is why the student was having such trouble figuring it out. I hadn't explored theme in the story other than the typical 'good versus evil,' or 'the importance of justice' of your typical mystery novel.
After that incident, I made more of a conscious effort to incorporate theme, very lightly, in my books.  I didn't want to hit the reader over the head with it and I still wanted to keep the lighter, comedic tone that I strive for in my cozies.
I found that sometimes a theme can make character development and subplots easier to plan. In one of my stories, I focused on the question of whether people can genuinely change. Can a zebra change his stripes?  The victim was someone who swore he'd changed and become a better person…but ended up murdered. The sleuth was a change-adverse character who was trying to adjust to a new relationship after years of being on her own. A suspect was dissatisfied with her life and felt that she should try to change.  I explored how the other characters in the book accepted or rejected the changes they saw in the people they'd known for years.
I think that adding more thematic elements to my stories helps to tie the plots together better. It also can add a running theme for a series for readers to recognize. In the Myrtle Clover series, my readers recognize the 'don't discount the elderly' theme. My octogenarian sleuth hates it when someone is condescending to her.  On Wattpad, when someone slights Myrtle, readers will add "Uh-oh!  He's going to be sorry he said that!" comments at those parts of the story.
Are readers looking for theme in genre fiction?  I doubt it. I think they're looking for a good story.  Subtle thematic elements can help to deliver a good story.  It's best, I think, if the theme is something that generated naturally…maybe even subconsciously as the story develops/is outlined.  I'm working on a story now where family relationships are explored. How does money impact family dynamics?  And the main subplot has my sleuth and her fiance trying to plan a small, inexpensive wedding and combine two, well-established households. The themes reflect each other in a very subtle way. I think it gives a full-circle feeling to a story and makes it more cohesive.
For that reason, I think theme is important in genre fiction, but only as a natural part of the story–where you can take an element from your main plot or an attribute of a character and explore that element or attribute further through subplots or other characters.
For more reading on theme:
Jami Gold's post, "What Does Your Genre's Theme Promise to Readers."
Janice Hardy's post, "Do You Know Your Novel's Theme?"
Now Novel's post, "How to Choose Good Themes for Stories."
What themes have you explored in your fiction? Is there a theme that crops up time and time again in your books?
Theme in Genre Fiction:
Click To Tweet
Photo via VisualHunt.com
(Visited 264 times, 1 visits today)