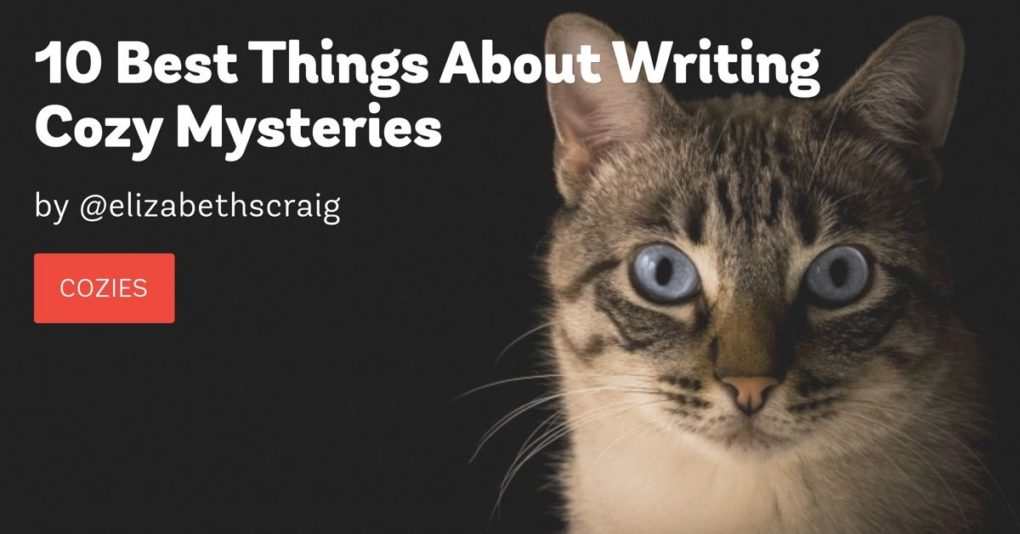 by Elizabeth S. Craig, @elizabethscraig
I like reading many different kinds of books. Everything from biographies to literary fiction and classic literature interests me.
But for writing, I've been sticking with cozy mysteries. There are a few reasons for that.  For one, I'm pretty well branded as a cozy mystery writer and that's what readers are looking for and expecting from me. For another, it takes a whole lot more effort and research for me to switch to another genre (although I've done that…once.)
The biggest reason, though, is that writing cozy mysteries is so much fun.
Here are the 10 best things about writing cozy mysteries:
The sleuths: Tired of the clichéd alcoholic police detective? No worries. The cozy sleuth is a gifted amateur who shouldn't be weighed down with addictions.
The sidekicks: Sidekicks in cozies are everything the sleuth isn't. This affords some great opportunities for insight and even some conflict for the sleuth.
The closed setting:  Cozies are frequently set in closed settings–small towns or small sections of bigger towns (a barbeque restaurant in Memphis).  The suspects all know each other and the victim and are limited in number.
The reader age range: Because these books are G-rated, I've had some readers say that they've read them with their grandchildren.
The lack of research:  You want to get forensic and ballistic research right. It has to be believable and it takes time to make sure that it works.  In a cozy, the mystery is set up like a puzzle. There is very little, if any, research required.
The tidying up: The process of restoring order to the story world is incredibly satisfying.
The humor:  The light humor in cozies provides a nice relief to the seriousness of murder.  This is usually provided with situational humor.
The subplots:  The subplots are fun to write and show a different dimension to the characters. You can have subplots that arc over the course of the series or that wrap up with each book.   You can even have subplots that tie into the main murder plot in interesting twists.
The small-town motives:  Motives never involve international intrigue or organized crime. Instead, they could focus on something as small (and relatable) as feuds with neighbors. The process of writing the motives is very cathartic.
The readers:  Cozy readers love the mysteries.  They love the almost interactive process of solving the mystery with the sleuth. And they're incredibly responsive–they answer email newsletters, they comment on Facebook, and they send emails. They also give great clues as to what they like…and don't like (which can be even more helpful)…about your series.
Those are my favorite things about writing cozies.  How about you? What makes your genre satisfying to write?  Want to give cozies a go?  ;)
Photo via Visual hunt
(Visited 497 times, 1 visits today)