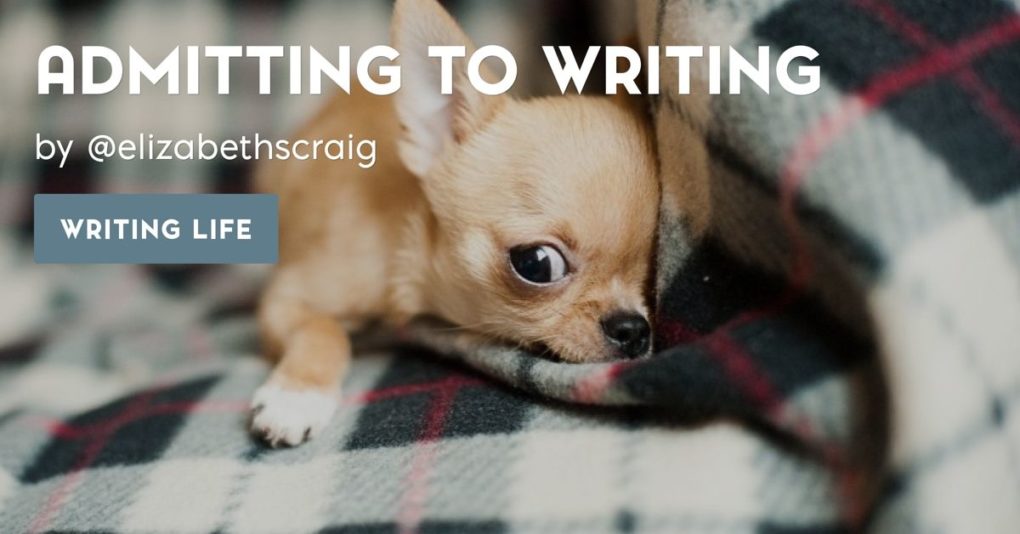 by Elizabeth S. Craig, @elizabethscraig
There are times when I'm completely prepared to admit that I'm a writer.  These are usually social situations or parent meetings where small-talk entails being asked what one does for a living.
On these occasions, I make sure I have my business cards in my purse (and that I know where they are in the cavernous depth of the purse). I have a chirpy, cheerful response down pat by now: "I'm a writer."  If I suspect it's going to be a very quick conversation, that's usually all I give. After all, there's no point in lingering at the refreshments table or when the teacher starts talking at parent night.
For these very brief encounters, they'll just nod their head and not ask anything else,  assuming that I'm a freelance writer or web writer of some kind.
But most frequently, and the reason I usually dread the question, this opens the floodgates to a bunch more questions.  What kind of writer? What kind of writing? What kind of mysteries? Am I published? Under what name? Where do I get my ideas from?
I'm fairly practiced at this, so for situations where I suspect I'm going to be speaking to the person for at least 10-15 minutes, I explain that the type of mysteries I write are similar to the type that Agatha Christie wrote (the similarity ends there), and that I've been published. I admit that I write under my own name (I've found they're usually embarrassed that they haven't heard of me, although the fact they haven't is not exactly surprising, considering the huge number of writers and books out there), and  explain that the books are available at the library, bookstore, or online. Then I'll hand them my card so they'll remember my name.
The trick is the unexpected situation.  And I live in the South, which means that strangers talk to me regularly–at the grocery store, at the post office, at the drugstore. They'll strike up an idle conversation to pass the time and to be friendly.
This happened at the library the other day. "What are you working on?" asked an older lady at the table where I was writing.  She wasn't being nosy, as hard as that is to believe. She was being Southern.
But I wasn't prepared to talk about my writing just then, since I was taken by surprise. "I'm answering emails," I said.
And that's where more savvy writers would make a quick connection. I mean…I was at the library. This woman clearly read books.  But still, I prevaricated. I just didn't feel like getting into it and hearing the inevitable questions.
There are ways of letting acquaintances know that you're a writer and that you have a book/books for sale.  Good luck with the random questions from strangers: clearly, I still haven't mastered that, myself.
Email signature. It's automatically included on every email I send out, whether it's to another writer or to my child's teacher or the gymnastics coach or the neighborhood homeowner association. It's just a hyperlink to my website and a link for my newsletter signup.
Update your LinkedIn with your books (under 'publications').
Make sure your Facebook bio has your books listed or at least states that you're an author. Share new book covers on your personal Facebook account.
And do carry those business cards.
Do you handle questions about your writing well?  How do you spread the word about your writing to acquaintances?
Photo via VisualHunt.com
(Visited 295 times, 1 visits today)