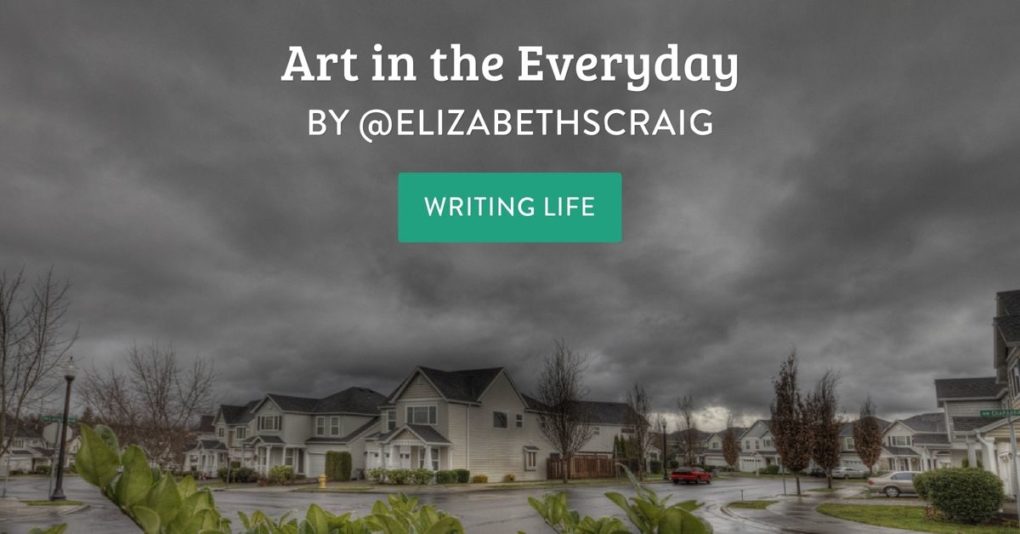 by Elizabeth S. Craig, @elizabethscraig
I was looking for a movie to watch and stumbled across "Paterson" on Amazon Prime Video (free to Prime customers).
The description of the movie reads:
Every day, Paterson adheres to a simple routine: he drives his daily route, he writes poetry into a notebook; he stops in a bar and drinks exactly one beer; he goes home to his wife, Laura. By contrast, Laura's world is ever changing. New dreams come to her almost daily. The film quietly observes the triumphs and defeats of daily life, along with the poetry evident in its smallest details.
It was, I think, the quietest movie I've ever watched. Because of its R rating, I kept expecting some sort of horribly violent or upsetting incident to take the film in another direction.  But there was nothing violent or especially upsetting (except, well, maybe for writers. I won't give any spoilers here).  I discovered later that the R rating was because of language, although I didn't even remember or notice bad language–a sign that it must have been slipped in very naturally.
Although I'm not a poet (at least not a good one), I loved the way that poetry was woven into the everyday (repetitive, routine, and rather boring lives) of the main characters.  I'm a subscriber to Poet.Org's Poem-A-Day newsletter, which sends me a poem to read each day (frequently accompanied by the poet's thoughts on the poem and a bit of bio).  As critic Kate Taylor wrote for The Globe and Mail: "Everyone, it appears, is capable of art." And: "…The sameness of it all only serves to underline that the creative act belongs to all of us every day."
As someone who creates (almost) every day, the movie resonated with me in a way that was maybe unintended: as a catalyst to get out of my own head and into the world a little more–a world that can provide unexpected inspiration for artists of all kinds.
One thing that I've always loved about the writing life is the way that it allows me to look at life through a lens: that it allows me a certain distance from the world.  And being observant helps feed my writing.
But I could use some help by expanding my observations and finding art in the everyday in settings other than my house.
On my list for finding art in the everyday (which I probably used to do a lot more than I have lately…and now may be a good time to replenish the creative well):
Get out of the house. This is a big one.  As my children have gotten older (my younger child is about to be able to drive on her own now), I've had to go out less. Maybe now I should choose to go out more. That could just be a library or a coffeehouse.
Sit where I can observe people.  And, usually, this involves a bit of listening in. People can be fascinating, and so can their dialogue.
Be prepared to list observations, note characters and traits.  I've gotten pretty good at surreptitious photography, too, for my character files.
Take a walk.  Sometimes inspiration or the poetry in the everyday doesn't have to come from other people. It might come from the world around us, especially if we take the time to observe it closely.
Read more to experience more.  Reading is another way of experiencing the world and seeing how others find art in the everyday.  Reading more is something that I've challenged myself to do in 2017. So far, it's worked out well.
Read different kinds of books.  Another challenge.  It gives me much more of a range of 'experiences.'
Do you find inspiration in the art of the everyday? Get out of the house much?  Have you seen the film "Paterson?"
Seeking Out Art in the Everyday:
Click To Tweet
Photo credit: mccun934 via Visualhunt.com / CC BY
(Visited 158 times, 1 visits today)