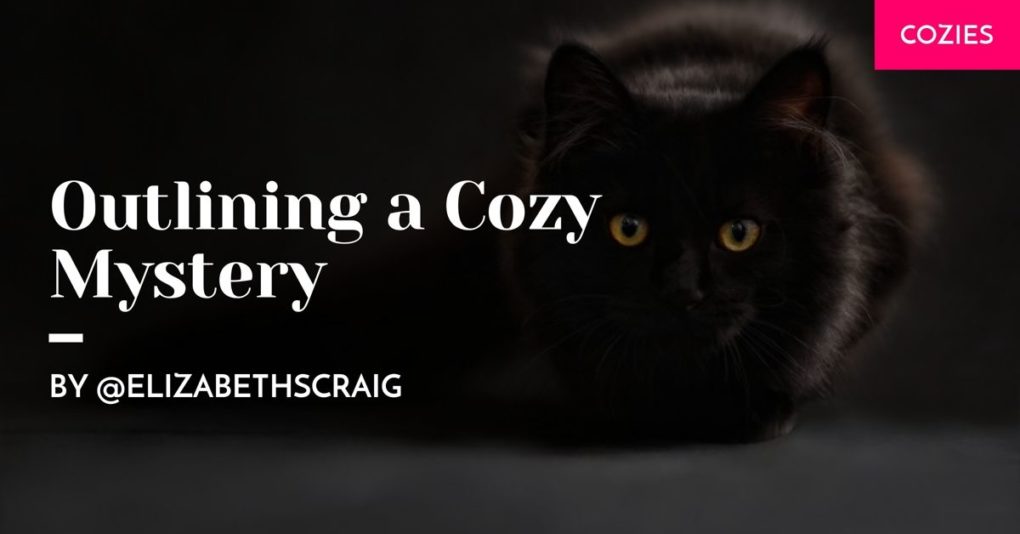 by Elizabeth S. Craig, @elizabethscraig
I realized recently that the most common question I'm asked in podcast interviews, during writer's conferences, and via email is: "What does your cozy mystery outline look like?"
I've always kind of blown my answer to this question, I think, because I'm surprised to get it. I never even thought of myself as an outliner until six years ago (I was a pantster until that point).
My outline has been a work in progress.  But I've tweaked it a lot over the years until now it's the basic tool that I need to jump quickly into a new story.
I'm posting a link to it in this post so that now I can actually have an answer to the question I've never answered well before.  :)   Hopefully, someone will find it useful.  You can find the template here on Google Docs and can copy it or download it there.
A few notes about the outline:
I do start with the back cover copy.  For one thing,  I have the cover made before I even write the book, and I need that cover copy right away.  For another, I like having it at the top of the outline to help keep me focused on the big picture of the story.
My suspect descriptions are short and sweet.   My main purpose is to assign them names (making sure that none of the names are too similar as to be confusing) and to give me something to work with when I pick the story up (for me, months later since I alternate writing two series).  An example from a recent outline:
Barton Perry: He's running for the state senate. He's married to Pearl, but is having a secret affair with Mae.  He's desperate to protect his government run. He's a good-looking, if smarmy, man in his late-fifties. He wears lots of colorful bowties and is always dressy.  He attends Wyatt's church and is an elder there.  Blustery. Cheerful. Flushed cheeks. Drinks a bit.
Interviews:  Each of my suspects, to keep readers guessing, tells a lie and a truth. They also point the finger at another suspect. This helps me develop suspects in a more natural way (so the amateur sleuth doesn't have to be clairvoyant to figure out who might be to blame).  In the second round of interviews (after the second murder), the suspects can also defend themselves against allegations by the other suspects in the original round of interviews.
Subplots/Memes/Series Tropes:  These are the extras. This might be the series hook (quilting, cooking, animals, etc.), this might be non-mystery-related character growth in a supporting character (or even the sleuth), etc.  My Myrtle series, for example, includes things like Myrtle's disastrous cooking, Elaine's hopeless hobbies, book club, etc.
I think everything else is pretty self-explanatory, but feel free to shoot me questions if it's confusing.
Again, this is something I use as a tool to more quickly jump into my book.  I'll deviate from it frequently, but it sure can make it easier to write.  This is a starting point for your book.
Do you use templates for your outlining?  Do you outline at all?
An Outline Template for a Cozy Mystery:
Click To Tweet
Photo via VisualHunt
(Visited 1,455 times, 1 visits today)