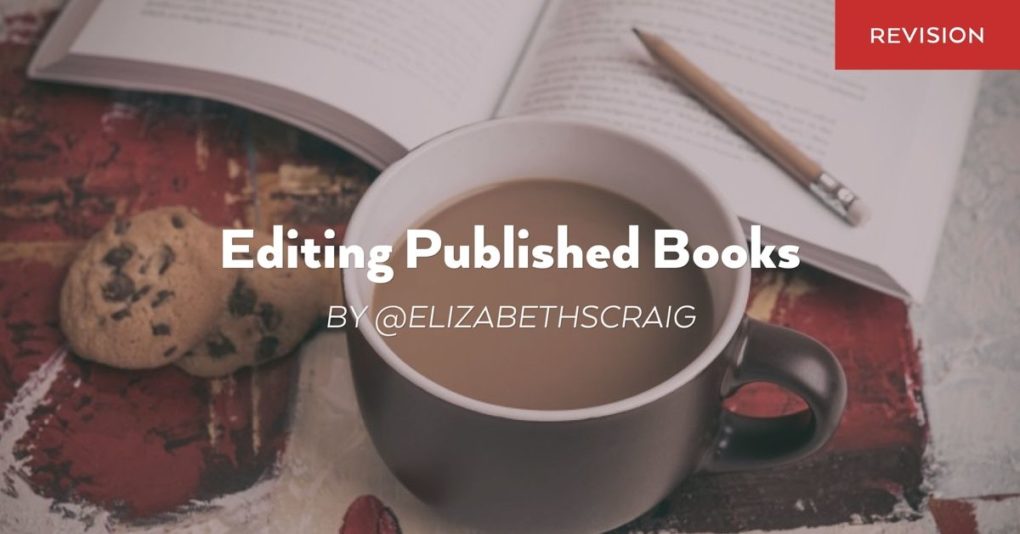 by Elizabeth S. Craig, @elizabethscraig
One of my favorite things about self-publishing is the ability to go back into a published book and make changes.
There have been, unfortunately, a few things that I would like to correct in some of my published Penguin books. Naturally, I don't have the ability to make those because they're not in my KDP dashboard.
But with my self-published books, I've made quite a few changes to the text.
One reason I might go back in is what you'd expect…correcting typos or small formatting issues.
Another is updating my back matter, especially my list of published books. I'll update the book titles and link each title to a page on my website (this prevents problems later. Linking to Amazon, for instance, will cause the title to be rejected by Apple and other retailers). Sometimes my bio requires a tweak. Sometimes I'll add a new social media channel, like Instagram, or end my presence on another. All of those things would make me want to update a book's back matter.
As formatting options for the self-published author improve, I'll also return to a book to change the book's style (more on how I do that in this post). Wanting small flourishes like drop-caps or styled chapter headings may make me update a book file.
Sometimes I'll add links to new things that I'm doing for promo: maybe a link to my Etsy store or to Patreon.  Once I started a newsletter, I quickly added a link to the signup page in backlist books.
As far as updating the file goes, I've done my best to keep it simple.  In the past, I tried editing the mobi and epub files themselves.  I used a program called Calibre. It worked, but it was definitely a hassle. A lot of tech-savvy writers use Sigil with good results. For me, I simply updated the original Word file and then converted it to mobi and epub through Draft2Digital.
It's worth noting that if you're making extensive revisions to a published book (for example, updating a technical nonfiction book) that change more than 10% of the content, you should consider getting a new ISBN and changing the edition number of the book. (Version 1.1, for example).
Although I try to make each book as perfect as I (and a team of helpers) can make it, sometimes corrections and additions need to be made. It's great that, in this digital age, we can continue making our books better.
For more reading on this subject:
Jodie Renner on whether we should make extensive revisions of an older book
Joel Friedlander on updating an ebook after publication. 
Do you ever change previously-published books?  What prompts you to make changes…and how do you make them?
Editing published books:
Click To Tweet
photo via VisualHunt
(Visited 221 times, 1 visits today)