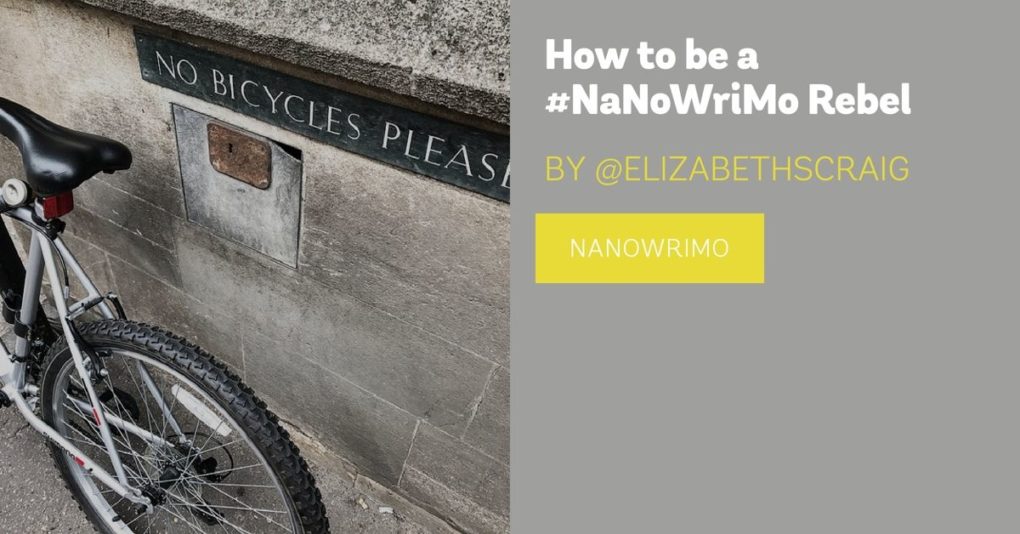 by Elizabeth S. Craig, @elizabethscraig 
I've never officially been part of National Novel Writing Month (or NaNoWriMo: more about the event here. If you're interested in signing up, here's how).  Wikipedia's NaNoWriMo entry explains how to 'win' at the event:
To win NaNoWriMo, participants must write an average of approximately 1,667 words per day in November to reach the goal of 50,000 words written toward a novel. Organizers of the event say that the aim is to get people to start writing, using the deadline as an incentive to get the story going and to put words to paper….NaNoWriMo focuses on the length of a work rather than the quality, encouraging writers to finish their first draft so that it can later be edited at the author's discretion.
To be a regular participant, you are to start on a brand-new manuscript on November 1. I'm always in the middle of a project at that point.  Besides, there's Thanksgiving to think about.  It's never been the most convenient time for me. (If you're like me, there's also Camp NaNo, in April and July).
But I've always fed off of the energy and the writing sprints of the NaNoWriMo community.  I lurk in the forums and get motivated.
I also tend to beat my usual writing goal…by a huge amount.
I've also, in the past, looked at it as an opportunity to get other writing-related things done.
NaNoWriMo is well-aware that there are rebels among them.  :)  They have a special forum for rebels that states:
You're writing a memoir, an essay, a comic, or something else that's not a novel. Come join the NaNo Rebels and converse with your fellow outlaws here.
Ideas for rebelling:  
Write nonfiction, or write your nonfiction outline/table of contents
Write essays (or freelance articles), a memoir, etc.
Work on several projects that need completing
Revise a project that you've already drafted.
Finish a work-in-progress
Write an outline for a project.
Write and send queries, if pursuing traditional publishing or freelance writing
Research and upload your existing books to aggregators  like PublishDrive, StreetLib, Draft2Digital, or Smashwords in order to expand your reach.
Research and upload your books to a POD distributor like IngramSpark.
Set a smaller goal.  Instead of shooting for the 50,000 words of NaNo, shoot for 30,000. Or just 15,000–whatever you think you can manage and that represents an increase of what you're doing now.  Or plan on finishing a novella for your email newsletter list or as a free book
Write a blog post every day for a month (think how far you'll get ahead on your editorial calendar, if you don't post every day).
The idea is to set a writing-related goal and meet it.  What's something that you need to make quick progress on?
How will you count toward your goal?  Some of goal-reaching will be intrinsic, depending on the project (uploading to aggregators or writing a blog post each day, for instance).  Some of them may be more complicated to count (revision).  Here are some ideas via writer J.J. Burry, compiled from the NaNoWriMo forum:
Count the same way: word=word — each word you revise goes toward your daily word count.
Average: take the average words that you revise per hour and count that as your daily word count.

If you average 500 revised words per hour, and you revise for 4 hours in a day, then your word count that day would be 2000.

A ratio: for every two words revised, count one toward your NaNo goal.
A set count per hour: for every hour you write, it counts as ____ words.
Chapters: each chapter's word count that you revised goes toward your daily word count goal.
Are you participating in NaNoWriMo next month?  Officially, or as a rebel?
How to be a #NaNoWriMo Rebel:
Click To Tweet
Photo credit: kevinspencer via VisualHunt / CC BY-NC
(Visited 334 times, 1 visits today)