by Elizabeth S. Craig, @elizabethscraig
Author Michael Alvear, who has been a guest on my blog, recently sent me the results of an interesting study he'd conducted.
I'm always interested in ways to move more books on Amazon–which is the retailer I have the most success with.
The cool thing about this infographic is that Alvear's study shows where Amazon customers focus on a book product page.  This gives writers insights to reader behavior.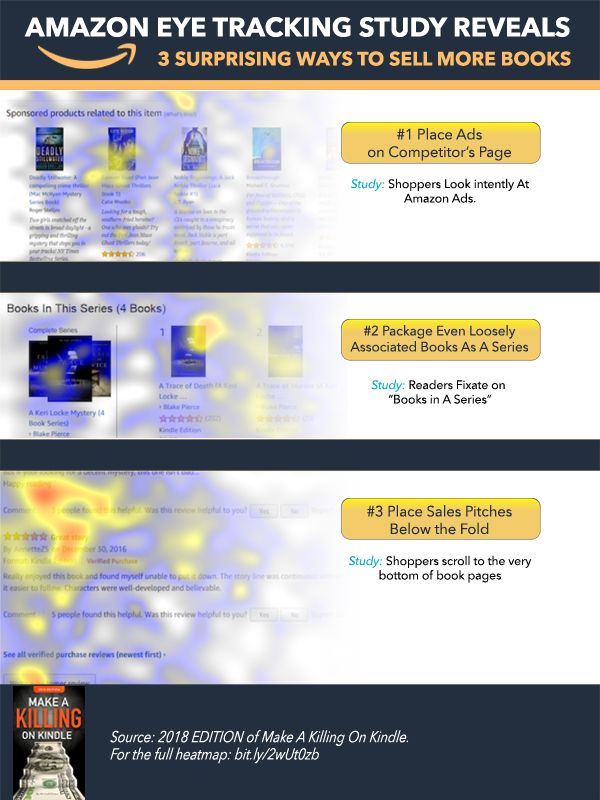 The first insight is that readers do focus on the 'sponsored products related to this item' section.  Alvear points out that it makes sense to capitalize on this by placing ads on a competitor's page.
I haven't explored Amazon ads, but I've read interesting articles about them.  For more information, read Penny Sansevieri's post "What You Need to Know for Successful Amazon Ads" and Deanna Cabinian's post on Jane Friedman's blog, "Using Amazon Ads to Sell a YA  Novel: A Detailed Analysis." 
The second insight is that readers focus on books in a series.  This is pretty widely known, but it's nice to see more proof of it.
I don't know why everyone else enjoys reading in a series, but I know why I do, as a reader: I've already invested time getting to know a story world and a set of characters and I'd like to maximize that by reading more stories set in that world and with those characters.
As a writer, it's simply a huge time-saver.  You already have the story world set up and a set list of characters.   Write more books with those characters in new situations.
The third insight is to put sales pitches below the fold.  
I always wondered how many readers clicked 'read more' to see the entire book description, including any pitches, blurbs, or endorsements.  Alvear's research indicates that readers do click through.
There are many posts out there on better book descriptions/sale copy.  Here are a few to get you started:
Penny C. Sansevieri 's article, "How Great Book Descriptions Can Help Sell More Books"
Bryan Cohen's article/interview with Joanna Penn: "How to Write Your Book's Sales Description"
Ellie Redding's post for BookBub: "8 Book Description A/B Tests You Need to See"
All of this research makes me want to go back and do some tweaking on my books.  :)
For more information on the Amazon eye tracking study, visit Michael Alvear's blog, Write for a Living. 
Do you especially craft your Amazon pitches?  Have you tried advertising on Amazon?
3 Ways to Sell More Books on Amazon: a Study by Michael Alvear:
Click To Tweet
(Visited 284 times, 1 visits today)