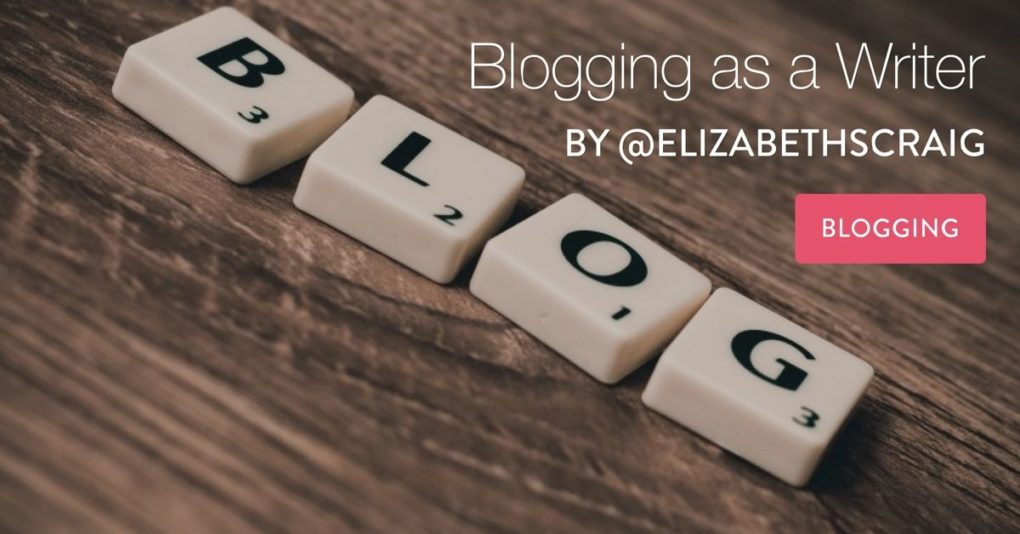 by Elizabeth S. Craig, @elizabethscraig
My first blog post was in August of 2008.  Along the way, I've tweaked the content and changed from Blogger to WordPress.  I've also played with the number of posts I run a week.  Aside from that, the blog is pretty much the same as it was nine years ago.
But along the way, I've seen lots of changes: some writers who used to blog no longer do.  Some folks never started. Some rarely post at all.  Which leads me to this post.  :)   Should writers blog?  If you decide to blog, how do you keep it up?  And how do you get a blog started?
Why should you consider blogging?
One big reason why I like blogging is because I bring traffic to my website (which also lists my books).  As Belinda Griffin put it in her article, "10 Rock-Solid Reasons Why Every Indie Author Needs an Author Blog":
Regularly updated websites, ie ones with a blog, are crawled more often by search engines and will appear higher up in search engine results, meaning a website with a blog is more likely to be found by someone searching using Google.
How often should you post?
If you're just starting out, I'd set the bar low.  Shoot for a post a week, maybe.  There are also benefits to 'slow blogging': check out Anne R. Allen's "Slow Blog Manifesto."
Even if you're posting once or twice a month, you're still regularly adding content to your website which can help with visibility.
If you want to shoot for a couple of times a week, just remember that you can always scale back to once a week.  The key is to stay consistent with posting, no matter how often you do it.
What should you post on?
It's really up to you.  What are you most comfortable writing about?  Some writers do a great job communicating directly with their readers: sharing personal photos, what they're cooking that night, what book they're currently reading, and giving  insight into their writing.  Some writers prefer sharing helpful posts for other writers.
If you're not sure exactly what path to take with your blogging, Jane Friedman has an excellent post:  "What Should Authors Blog About?"   She rates your options from easy to difficult.
For other ideas, try these posts:
Hundreds of Blog Post Ideas for Writers by Shelley Sturgeon
30 Inspiring Blog Post Ideas for Writers by Amanda Patterson
How do you find blog readers?
Encourage engagement by ending posts with a question.  Respond to comments. Visit and comment on blogs, especially those of bloggers who comment on yours.  Set your posts to automatically upload to Facebook and post on Twitter.
And keep it up.  Be consistent.  Choose which days of the week (or day of the week) you want to post and then blog on those days.  When you're going to need to be absent from the blog, make sure to note it and give a return date.  That helps keep you on track and helps your readers know that you just haven't fallen off the face of the earth.
Why do bloggers stop blogging?
There are so many reasons here.  Over the length of time in which I've blogged, several bloggers have, sadly, passed away.  Others have been overwhelmed by health issues or life simply getting in the way.
Sometimes it's something much more basic.  I've been amazed by the number of bloggers who simply tried to do a blog makeover and then stopped blogging…it was as if the makeover project took time and energy away from the actual posts and derailed them.
To keep blogging, my top tips for starting out and for maintaining a blog:
Set the bar low, as mentioned above.
Write several posts (with images, etc.) before you ever launch your blog.  Stay several posts ahead.  Or have a few emergency posts handy for when life/health/etc. gets crazy.
Keep an editorial calendar or at least a list of ideas that you might want to blog about.  Dan Blank has a nice post about brainstorming post ideas in his piece, "10 Simple Steps to Steady Blogging."
Make sure to make the posts easy to read by keeping them skimmable–break up text into paragraphs and use headings to help readers make sense of what they're seeing on the page.
Blogging has been one of the best decisions I've made.  I've had invitations to speak because of blogging.  I've definitely brought traffic to my website because of my blog, which helps me with search engine visibility (and, ultimately, my books' visibility).  And I've met so many amazing writers and bloggers through my blog, too.
For more points to consider when setting up a blog, check out another post from Jane Friedman, "How to Start Blogging: A Definitive Guide for Authors."
Do you blog?  What do you see as the benefits?  Any questions from anyone who hasn't started blogging yet?
Why writers should blog and help getting started:
Click To Tweet
Photo on Visual hunt by FirmBee
(Visited 372 times, 1 visits today)