About the Book
From Publishers Weekly
The amusing first in a new cozy series from Craig (A Dyeing Shame) introduces Myrtle Clover, a sturdy octogenarian who writes a column for the Bradley, N.C., newspaper, the Bradley Bugle. When developer and realtor Parke Stockard, an unpopular busybody, dies from blunt force trauma while messing with church altar flowers, Myrtle helps her police chief son, Red, investigate. Could the killer be rival Buglecolumnist Josh Tucker; Parke's drugged-out son, Cecil; or a gossipy book clubber like Kitty Kirk? When Kitty's killed by another blunt force trauma, the plot thickens, and with Bradley's population only 1,500, chances are Myrtle knows the criminal. Myrtle's wacky personality is a delight (she collects garden gnomes that she trots out to her yard whenever she's displeased with Red).
"Craig's skill at evoking a small town and its idiosyncratic inhabitants renders this mystery a pleasure to read. I'm looking forward to the further exploits of Myrtle Clover."
—Mystery Scene Magazine
With 43 five-star reviews on Amazon, this book introduces Myrtle and Miles.
Bingo, bridge-and a dead body
in the church sanctuary?
Life in this small Southern town just got ugly . . . and exciting!
No one in Bradley, North Carolina, is exactly crying into their sweet tea over the murder of Parke Stockard. Certainly not retired schoolteacher Myrtle Clover. Upon discovering the corpse, Myrtle is struck-not with grief, but a brilliant idea! Solving the crime would prove to everyone (especially her son Red, the police chief) that this eighty-something-year-old is not ready to be put out to pasture just yet.
The victim, a pretty but pushy town developer, had deep pockets and few friends. Myrtle can't throw one of her gaudy garden gnomes without hitting a potential suspect. Even when another murder takes place, proud Myrtle forges on, armed only with a heavy cane, a venomous tongue, and a widower sidekick.
A note to readers that the cover has been changed because the rights to the story have reverted from the publisher to the author.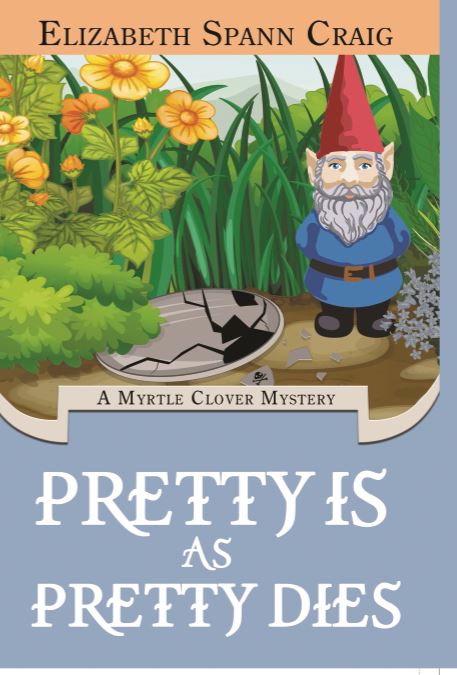 (Visited 1,014 times, 1 visits today)
Other Books in "Myrtle Clover Cozy Mysteries"
Disclosure of Material Connection: Some of the links in the page above are "affiliate links." This means if you click on the link and purchase the item, I will receive an affiliate commission. I am disclosing this in accordance with the Federal Trade Commission's
16 CFR, Part 255
: "Guides Concerning the Use of Endorsements and Testimonials in Advertising."