Spanish Translations:
La muerte teñida de rojo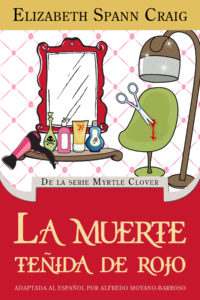 Los secretos y el alcohol no hacen buenas migas… El amanecer de un cadáver en pleno Salón de Belleza con unas tijeras clavadas en la espalda desatará una peculiar mezcla de misterio, sospechosos y, por supuesto, el chismorreo del agitado vecindario de un pueblecito sureño de Carolina de Norte.
Myrtle Clover, octogenaria detectivesca aburrida de ganarle a todo el mundo al Bridge, se valdrá de su astucia, descaro y veteranía para intentar esclarecer, detrás del telón de la mismísima policía estatal, la razón por la cual ciertos secretos pueden costarle un disgusto a más de uno.
Esta novela bestseller es la primera de la aclamada serie de Myrtle Clover en ser adaptada al idioma español universal.
Price (print): 9.80 EUR
Print (ebook) 4.99 EUR
Acerca del Traductor
Alfredo "Freddy" Moyano-Barroso (Madrid, España, 1979) es un actor, empresario, productor/narrador de audiolibros, con experiencia como traductor freelance desde 2006.  Afincado en Wisconsin, Estados Unidos, desde 2002, su fervor por la trans-localización le llevó a que libros como "CatFish Tale – El Cuento de Don Gato Pez" (de Kathy Brodsky) recibiera el galardón de Libro Ilustrativo del Año en 2017 por la revista Creative Child Magazine.
Freddy se graduó en Periodismo por la Universidad Complutense de Madrid, y desde 2016 lleva su propia compañía (Moyano Lingua Consulting and Productions, LLC – www.moyanolingua.com), bajo la cual actúa en cine y televisión, además de haber producido decenas de audiolibros y maquetas de audio.
Como lector efervescente y admirador de personajes de las novelas de Arthur Conan Doyle o Agatha Christie, a Freddy le fascinan las novelas de misterio, lo que le convierte en el traductor ideal al castellano universal de la serie de Myrtle Clover.
Italian Translations:
C'è un cadavere in giardino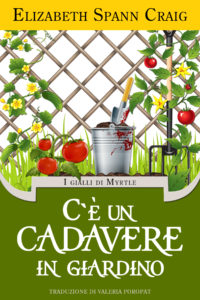 Il giardinaggio può essere molto pericoloso.
Chiedetelo a Myrtle Clover e soprattutto al suo adorato gnomo vichingo, utilizzato nientemeno che come arma del delitto. E anche se il morto non piace a nessuno, neanche a Miles, Myrtle si ritrova a dover indagare sul delitto… prima di finire lei stessa a concimare le margherite!
Apple 
Kobo
Scribd
Barnes and Noble
Traduzione di Valeria Poropat: 
Valeria Poropat è laureata in Traduzione Letteraria e Tecnico-scientifica presso l'Università di Roma La Sapienza. Lavora nel settore della traduzione e dell'adattamento dialoghi dal 2007.