By Elizabeth S. Craig, @elizabethscraig
I've been hearing a lot lately about author earnings—self-published, traditionally published, and earnings from what writer Bob Mayer coined "hybrid writers." I think that the chart that started it all (and the report's data has since been questioned by a variety of writers, notably Hugh Howey), is this one from Digital Book World's Dana Beth Weinberg last December: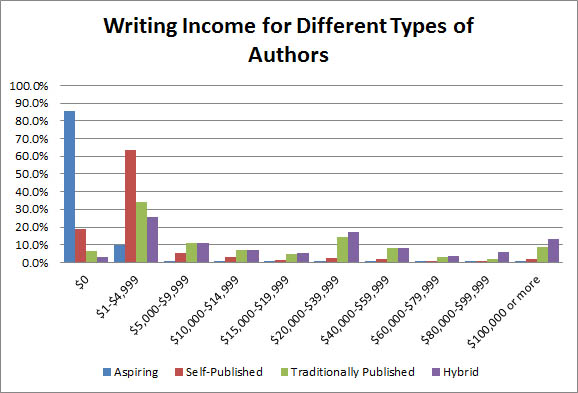 Hybrid writers do come out pretty well on the chart.  And I've seen similar data on various other charts I've seen.
I worry about this.  Being a hybrid writer has worked for me…so far.  It's a good gig…if you can get it.  But I feel like things are shifting a little bit already (as it always seems to in this business).
For one thing, my income was a lot more balanced between my Penguin books and my self-pub books in 2012.  Then in 2013, my self-pubbed income far outweighed my trad pubbed income (66% self-published income).
I do think starting out being published by a traditional publisher have helped me in some ways.   But notice the 'buts':
I feel like I got a solid introduction to mystery readers and name recognition.  But—this was a Big 5 publisher with an already-established group of avid readers for a popular subgenre.  There are dedicated readers (and we love them) that will read all the cozy mysteries Penguin puts out every month. They even know the pub schedule for these books—they always release the first Tuesday of the month.  This helped me get a toe-hold…no question.
Would I have gotten the same boost from a smaller publisher?  I can actually answer that question—no.  My debut novel was a 2009 mystery from Midnight Ink.  It didn't take off and the series was dropped by the publisher, although the book has since become a much stronger-seller than that first Penguin book in 2010 (because I've self-published four sequels to the Midnight Ink book since then).
I had excellent developmental and copyediting and learned a lot from my editors.  I was able to apply that to my self-published books.  But—I know other traditionally published writers who have not had the wonderful editors that I've had.  They really gained nothing from the experience.  (In fact, I had one dud, myself.)  Besides, there are excellent freelance editors to be had.  Yes, you have to pay for them out of pocket, but a well-written, well-edited book has the potential to recoup money paid up-front.  Digital publishing's long tail means that over the years, the book can potentially find an audience and pay back our investments.
I had distribution to physical bookstores and libraries.  This also helped gain me new readers.  But—I think distribution of physical books is becoming less important.  I know that my ebook sales are higher than my print sales…every month.  Even for my traditionally published books.
Frankly, my self-published book prices look amazing next to my trad-published book prices on my Amazon author page.
You'll notice I don't mention marketing support as a benefit of traditional publishing.  :)
You'll also notice that I don't mention cover design and formatting as a benefit.  I do love my trad covers. I think they're intricately drawn and clever with the hint of danger in the cozy setting.  But I can buy an awesome cover, myself.  Formatting is something I hand off  and get back a day later.  It's not a deal-maker for me to stay with trad pub for these services, although it's a nice bonus.
What I feel now: I've gotten what I'm going to get (mainly) out of the experience as a hybrid author.
I feel that the benefits that I've received are winding down.  I've gotten a great education from my  talented editors.  I've received exposure in physical bookstores and libraries and an introduction to a dedicated reader base.  I hate to sound like I just want to take my ball and go home, but that's likely the ultimate direction I'm heading in.
Mainly, now…I feel as if my self-publishing production is slowed down because of traditional publishing.  I wince as I say that, but it's the truth.
Why I've continued being a hybrid so far:
I had someone in the industry ask me last week why I'm still a hybrid (I signed another contract extension last August).  Mainly I continue working with my publisher because I love the characters and my readers love the characters… it hasn't seemed like a great idea to stop writing the series.
Random Observations:
I'm thinking—if you really are going to query publishers for the above benefits, it might help you more if you went through a publisher who gets you good distribution and a decent advance and no funny business in the contract (a Big 5, if you can swing it…and do watch that contract.  Especially with a Big 5).  A larger publisher will likely trump a smaller one in terms of distribution reach and establishing a large reader base.  You should get the same level of editing at many smaller publishers as you would at a larger one, though.
Maybe my main point is that you don't have to remain a hybrid writer.  You could start out as a hybrid author, soak up all the knowledge you can, and then self-publish afterward.
Assisted self-pub: This is for the folks who are interested in trad pub because of the cover design, editing,  and formatting.  I was recently asked if I'd be interested in having a publisher to do my self-publishing for me—a package that would include the covers and formatting, etc.  I wasn't, actually.  Not if it means giving up part of my royalty.  I can subcontract out that work myself, and I have a team in place. Now if I had no time because I had a demanding day job or had really overwhelming family obligations or just knew I'd never be self-published if I didn't buy a package…then I'd do it.  I'd just be very careful about how much royalty I was giving up or what the terms were.
I do feel grateful for my start in the business…and incredibly, incredibly lucky. I have no rancor in me at all…and I've loved working with the industry pros that I've had the good fortune to associate with.    I'm speaking strictly from a business…a financial…viewpoint.
It  does worry me that some writers may think they've got to be a hybrid writer to be bringing in good income.  Because the pros of being hybrid are definitely shifting.  Or maybe the pros remain but there gets to be a point where you've maxxed out your advantage.  It might not be a forever thing.
Thoughts on this?   I've just dumped a bunch of opinion out there and just personal experience out there…everyone has different needs, so my approach won't fit for everybody.  At least we have choices, right?
(Visited 235 times, 1 visits today)