By Elizabeth S. Craig, @elizabethscraig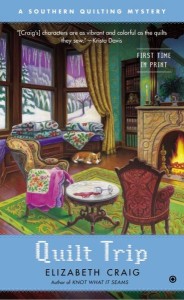 I think by now most of us have agreed that, whether they should or not, covers have a tremendous impact on what readers purchase.
In a split second, a good cover indicates a book's genre.  This is probably the most important role of a cover, in commercial fiction.
As Mark Coker of Smashwords states in his free ebook, The Secrets to Ebook Publishing Success:
Your cover is the first impression you make on a prospective reader. It's the visual embodiment of everything your book represents. Great covers, through their imagery alone, can communicate genre, topic, mood and setting. A great cover image makes a promise to prospective readers. It helps them recognize your book as one they'll enjoy reading.
I actually received an email from a reader recently.  She's an avid reader of the Myrtle books and also enjoys the Southern Quilting mysteries.  She hadn't, oddly to me, ever commented on my Memphis Barbeque books (and I knew that she was aware that I write that series under a pseudonym).  She told me in her email that the Memphis books looked very "serious" and she's a fan of humorous mysteries. She decided to give them a go recently and told me "I guess you can't judge a book by its cover" since she'd enjoyed the books and found them the humorous/bordering-on-campy reads that I usually create.
In her email, she particularly referenced this Memphis cover as one that had given her pause: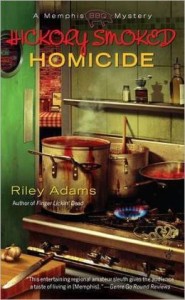 I had a conversation in the comments with writer Meg Wolfe last week about tone in our books.  I mentioned that the title above, Hickory Smoked Homicide, had had a darker tone to it—because I was in a dark mood, for some reason. I had nothing going on in my life to justify the dark mood, except the fact that this book was incredibly difficult for me to write and I think the struggle, weirdly,  came out in the tone.  This was the book that I nearly deleted several weeks before deadline out of complete frustration.  Then I had an epiphany after speaking with a friend who had grown up in the culture I was writing about, and the book ended up working out really well.
But!  The cover designer at Penguin totally picked up on the tone and you can see it in the cover.  It did scare away some cozy readers of mine, I'm sure.  But I ended up receiving more emails from male readers than I ever had.  So maybe it ended up working out for me in the end.
I definitely have a particular feel in mind when I'm contracting a cover for my self-published books.  This is a cover that I got back on Wednesday from my current cover designer, Karri Klawiter for a book that will come out this fall (yes, I've found it smart now to go ahead and get covers for books that I haven't even finished writing yet):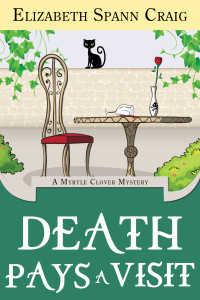 To me, this is the kind of cover that clearly indicates a light mystery.
We know it's important, but how do we connect with a good cover designer if we're self-published authors? Well…it does take a little research.  Most authors are great about sharing on their blogs who did their covers—considered a nice plug for the designer they worked with. So, if you browse your genre on Amazon, paying special attention to the lower-priced books (because, the way the current climate is, those are still more-likely to be self-published books), make note of the book titles that reflect the cover look you're going for.  Then you can click on the author's Amazon Author Central page, which ordinarily connects to a blog.  Then you can search the blog for keywords like "cover designer."
I also maintain a free spreadsheet of ebook professionals, which include cover designers.
So, these are my observations from a non-designer side of the business.  What observations have you made about your own covers and what works?
(Visited 90 times, 1 visits today)