By Elizabeth S. Craig, @elizabethscraig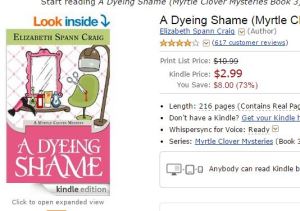 I've noticed that my books with the highest number of reviews usually tend to be my top sellers.  Not always (there are a couple of Penguin books with a couple of dozen reviews that still tend to sell well), but most of the time.
I'm not sure how it works—it's either because Amazon's algorithm favors books with more reviews (they show up near the top in searches or in the "customers who bought this also bought" section) or because readers think "oh, everyone is reading this" and they jump on the bandwagon too.
Whatever the reason, sales do tend to follow reviews.
I've been asked, in the last couple of interviews I've done for bloggers, how I've gotten reviews for my books.
The only thing I've done with my self-pubbed books to garner reviews is to run sales.  I didn't advertise the sales in any way…not on my blog, newsletter, Twitter, Facebook…nothing.  I just ran them.  The free promos tend to garner more reviews than the $.99 promos.
Pros with this approach are that your book finds its way into the hands of new readers.  Many of these readers tend to write reviews (expect them usually a month or so following the sale).  It's free, unless you're counting the cost of the lost sales (I like to think of that loss as a form of unofficial advertising). I put books out for free by making them free on Smashwords and then Amazon price matches.
The only con with this is that you sometimes hook readers who don't read your genre and, perhaps, don't even like your genre. They will sometimes write reviews too.   I think that most readers are savvy enough to realize that these types of reviewers simply don't care for those types of books.
In the past, I've more actively courted reviews for my Penguin books.  Oddly, however, they have a very low number of reviews compared to most of my self-pubbed books…I'm convinced this is due to pricing and volume of readers.  I've contacted Amazon's top reviewers for my genre (see this article by Laura Pepper Wu for Joanna Penn for tips with how to do so), I've connected with book bloggers who review my genre, and I've signed up for Goodreads giveaways to give free copies of either ARCs (advance reader copies) or finished copies of my books. The idea was to try to get some reviews out there soon after the release to jumpstart sales.
The Amazon top reviewer approach was time-consuming.  But if you are eager to try something new and need to move some books, it's definitely worthwhile to check into.  These are not guaranteed good reviews, obviously.  I've found, though, that it honestly doesn't appear to matter if I have bad reviews…it seems to be the number of reviews. And, no, I'm not sure what to make of that.
Goodreads worked well.  You can't really count on a review, but the chances are that you will receive a review (good or bad) if you give away at least a few books.  It definitely also helps to increase awareness of our books on a site that's popular with readers.
Have you actively courted reviewers for your books?  How have you done it?
(Visited 30 times, 1 visits today)