By Elizabeth S. Craig, @elizabethscraig
Last week I opened up a crime novel translated into English from Norwegian and saw the logos in th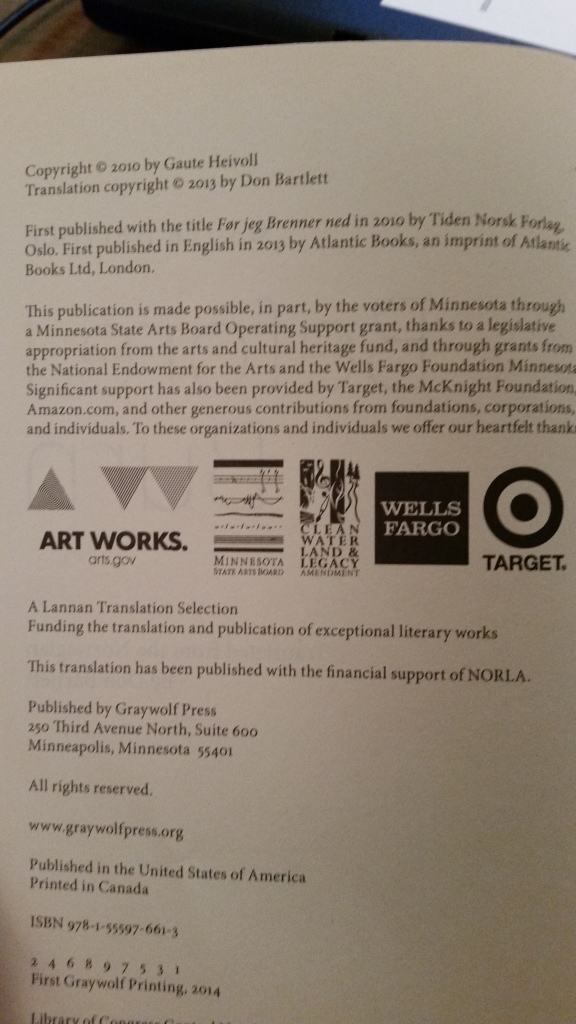 e picture to the right. It startled me because I'd never seen a sponsorship before (even one like this, which is sort of indirect).  I wasn't sure what to make of it.  Have y'all seen this type of thing before?  It distracted me, but I don't know if it distracted me only because I'm a writer and noticed it.  And I wondered…what if writers were being offered corporate underwriting or sponsorship directly?  Would it have an effect on your content?  Is this something we might be hearing more about?
I've noticed a dip in sales numbers since September. In fact, I launched a self-pubbed book in September and was initially excited about the timing because I knew I'd get my royalty check in late November right before Christmas shopping time.  Although the check from Amazon was still a decent-sized check, it was about half of what I usually make for the first month of a self-pubbed release.  As usual, I have no data (never any decent data in this business), but I suspect that Kindle Unlimited (which I'm not enrolled in) may potentially be having a ripple effect. Other authors have mentioned the same thing.  Whatever the origin, it seems to have impacted my audio, CreateSpace, and Kindle sales.  My Smashwords, Nook, and Apple sales are at the same level as they always are.
Have you thought about what you want to accomplish with your writing in 2015? I'm currently working on a production plan for next year.  Although a production plan can sound scary, it's really just an actionable to-do list.  I make a list of the books I want to write for the year (either traditionally published or self-published) and then all the tasks associated with each book. These tasks include writing time, editing time, and production time (cover design, formatting, professional editing, uploading, and promo). Then I take the items and put deadlines/reminders on my Google calendar to keep myself on track. It's an easy way to help retain focus during the year.  I spoke with author Stephen Campbell in a podcast for The Author Biz about production plans, setting up a self-publishing team, ACX, Wattpad, and other topics.
As a follow up on my "Getting Reviews" post, I wanted to report that the recent free sale I ran did end up netting me 46 reviews and a boost in sales after the sale was over.  So…it's something to consider if you're looking at a book that could use some more reviews. Sales tend to work better than any other method, in my experience.
Hope everyone has a nice weekend!  Do you have any updates or business-related thoughts, yourself?
(Visited 13 times, 1 visits today)