by Robin Houghton, @RobinHoughton
Are you a blogger who likes to stay on top of blog statistics? Do you regularly check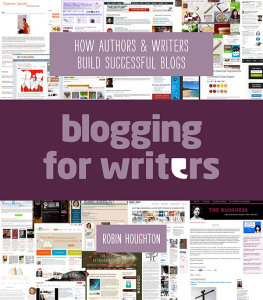 which sites are sending you traffic, or which posts are the most popular? Do the stats affect the decisions you make about your blog?
For professional bloggers, monitoring the numbers is crucial – they need to know what's working in order to do more of the same, and not waste time on blog posts and blog content that isn't ultimately earning them money.
However, not everyone takes a systematic approach to measuring their blog's performance.  Most of us get excited to see visitor numbers rise, or a particular post get a lot of comments. Positive statistics can be encouraging. But monitoring the stats can easily become either addictive (checking too often and stressing about it) or overwhelming (what to do with all these numbers, and what do they mean?)
Blogging platforms come with their own proprietary stats. And if you have Google Analytics installed, you could spend all day crunching the numbers and building pie charts. But it's good to remember that "not everything that can be counted, counts". If you're a blogger who wants to build and maintain a readership, but would rather not spend too long analyzing the stats, it pays to know which numbers are worth monitoring, and which are less significant.
1) Visitor numbers
Most blog stats packages will tell you numbers of both Views and Visitors. The one to take note of is Visitors, which corresponds to unique visits. Don't feel you have to measure up to some perfect number. The thing to do is to monitor these numbers over time. You want them to be rising generally, month on month or year on year. If you have a spike in numbers, look to see what caused it – maybe your blog post was shared by someone influential on social media and generated a load of clicks, or maybe your blog was mentioned on a big media site or in the national press. Quiet days or even weeks are normal. But if Visitor numbers are trending down, that's when you might wonder why. Have you been blogging less frequently? Gone off topic? How could your blog be more engaging?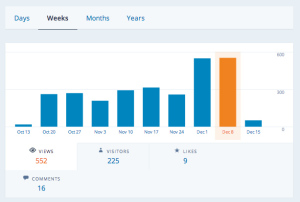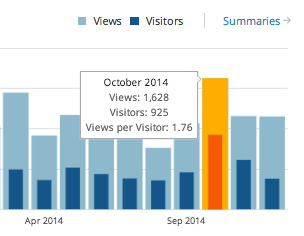 2) Referrers
When visitors arrive at your blog via a link from another blog or website those sites are recorded as 'Referrers'. Look for any patterns. Does Facebook or Twitter send a lot of traffic? It's a sign your blog posts are being shared there, which in itself is a sign of endorsement. It's also a good indicator of where your readers (and potential readers) hang out. If you see another blog or site regularly referring visitors, find out more about that site – it could be a blog you should read or comment on. It may even be a potential blogging buddy.
3) Top Posts & Pages
This tells you what content people are attracted to. If you notice particular types of blog posts always do well,  for example, 'how to' posts with lots of screen shots, you might want to produce more like that. However, this isn't the same as 'most commented on'. Just because a page or post gets a high number of visitors, it doesn't necessarily mean that's your most engaging content.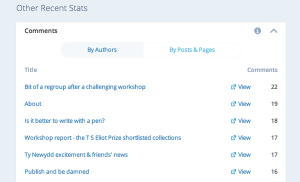 4) Most-Commented-on Posts or Pages
In WordPress, go to 'Comments – By Posts & Pages' to see a list of your most commented-on content. High numbers of comments is a good indication of content that readers enjoy (or maybe find contentious) and discussions they want to participate in. Commenting requires time and energy, more so than just 'liking' a post. Plus, motivated commenters often become subscribers. Knowing which posts are generating the most interest and discussion helps you decide what to blog about, if you ever have that problem!
5) Subscribers
Of course, we all want blog subscribers, because it makes it all feel worthwhile. But, as with visitor numbers, look at this over time and don't worry about reaching unrealistic goals. Quality counts, not quantity. From the point of view of capturing the genuinely interested folks, you'd do better to monitor the growth of your email list. Unlike a blog, email allows you to 'push' messages to your fans, should you wish to do that occasionally.
Once you're focused on the stats that are the most meaningful, you might want to set yourself a schedule for monitoring, so that you don't spend too long on it. If you're posting once or twice a week, there shouldn't be any need to check the stats more than once a week, maybe even less often. The trick is to enjoy your blogging, learn from the numbers but not become a slave to them.
Robin Houghton has over two decades of experience in marketing and communications,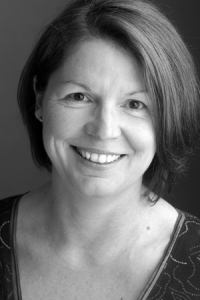 formerly with Nike, then running her own business Eggbox Marketing since 2002 specialising in online. She now works primarily with writers and publishing industry professionals to help them make the best use of social media. Robin writes blogs on social media and poetry and has been a guest blogger for a number of sites including Social Media Today and MarketingProfs. She is a published poet and a commercial copywriter for web and print, and an experienced trainer and conference speaker. Her first book 'Blogging for Creatives' was a best-seller and resulted in two more commissions, 'Blogging for Writers' and forthcoming in 2015 'The Rules of Blogging (and How to Break Them)', both published by Ilex in the UK and Writers Digest Books in the US.
Twitter: http://twitter.com/robinhoughton
LinkedIn:  http://uk.linkedin.com/in/robinhoughton
Social Media for Writers (blog and email newsletter) http://www.socialmediaforwriters.co.uk
Blogging for Writers – http://bloggingforwriters.info
Buy the book in the Writers Digest Shop:
http://www.writersdigestshop.com/blogging-for-writers-group
or on Amazon UK:
http://www.amazon.co.uk/Blogging-Writers-Authors-Build-Successful/dp/1781572135/
(Visited 58 times, 1 visits today)