By Elizabeth S. Craig, @elizabethscraig
I had my tax appointment with my accountant on February 2nd.  This is really not "my thing," but I feel a lot better now that I've got a CPA helping me.  Although, as I walked into her office on the 2nd, I said, "You know, taxes really make me anxious" and I promptly dropped all my receipts and papers on the floor.  Apparently in an attempt to show, not tell.
But after all the trouble and the figure-finding and the paper shuffling, I found that I actually had some pretty interesting data.  Here's what I found out about tax year 2014:
Breakdown of earnings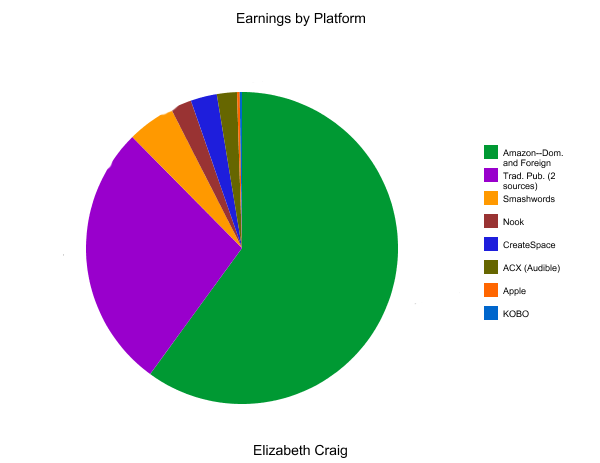 So the above chart just sort of shows earnings by publisher/retailer.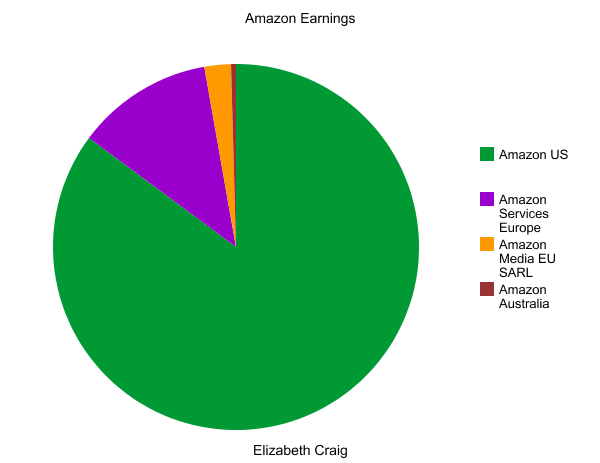 The chart above shows earnings by different Amazon regions.
Notes:
Earnings from my traditionally-published titles (2 sources/publishers) reflect 9 published books.
Self-pub earnings (everything else) reflect 6 published books.
The Apple percentage is artificially low because it reflects 1 book (I used Smashwords to distribute the others)
The Kobo percentage is artificially low because it reflects 1 book (again, I used Smashwords to distribute the other titles)
Takeaways:
The first thing I noticed was how low the Nook profits were. I mean…barely much over the CreateSpace or the ACX (audiobooks).  Wow.
You'd think that a takeaway of mine should be that the trad published books brought in a lot less despite the higher number of titles.  But this doesn't come as a shock to me. :)  Still, it's pretty amazing seeing it on the graph.   Here it is shown a different way:
It felt as if I didn't make as much last year.  I even told my accountant at the beginning of our appointment that I didn't make as much last year.  She told me I was wrong…I made a bit more in 2014 than in 2013.  7.1% more.  Why didn't it feel that way?  I think the earnings still slowed…I had 3 more titles published in 2014.  So it seems as though the earnings should have been higher.
Also, I think the fact that I put 50% of my earnings away for taxes (which really made me unhappy) made me feel as if I just didn't have as much income.  As self-employed people in the US, we're employer and employee.  Although putting that money away was a smart move.
What I did right last year (tax-wise)
As I've mentioned before, 2014 was the first year that I had a dedicated separate account for income and expenses related to my writing career. My accountant strongly urged me to create this account since the Internal Revenue Service here in the States doesn't like seeing business income and household expenses mixed together.  This worked really well. I was able to get a sense of my actual earnings a lot easier by reviewing the year's deposits…even before the slew of 1099 forms arrived in my mailbox.
I put 50% aside for taxes.
I paid estimated quarterly taxes.  This also helped avoid that huge tax bill I got in 2013.
What I think I'll change for 2015 (tax-wise)
I need to divide my earnings up by publisher/retailer before seeing my accountant next year. I originally just turned in some lump figure of income.  I'd also like to track my income quarterly to get a better picture of what I'm looking at as I'm going through the year.
I handed all my book production costs this year to my accountant as "production costs."  But in 2013, we'd divided them into editor fees, cover design, formatting, etc. I think I need to keep those divided up next year.
I need to remember that I need to get the 1099s for Smashwords, Apple, and Kobo downloaded off those sites.  I'd forgotten that was a download.
I need to make my appointment with my accountant next year in mid-February.  I got a flurry of 1099s in the mail earlier this week and I had to keep updating her.
So, that's what I came up with.  Did you make any interesting observations regarding your sales or earnings last year?  Do taxes stress you out like they do me?
(Visited 59 times, 1 visits today)