By Elizabeth S. Craig, @elizabethscraig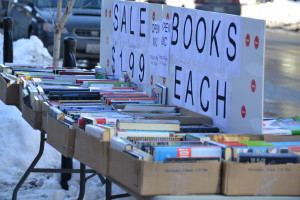 I had to answer a questionnaire for self-publishers recently and several of the questions stumped me.  I have a feeling that this isn't a good thing.
One of the questions was 'How many books have you sold (not given away)?'  I had absolutely no idea.  And this information is not exactly as easy to come by as you might think.  There is no way on your KDP dashboard to find lifetime sales.
I also had no idea how many books, total, I'd given away.
Another question was 'What is your strongest selling title?  How many units have you sold?'
Hmm.
In my defense…I have been very busy writing several series.  My self-published books number six which, although not a huge number, certainly adds a bunch of lines and some complexity to each month's KDP excel sheet.
Sadly, I did not take the excellent advice of writer Jack Welling and have one or both of my teenage children work on this stuff.  Somehow my clerical needs always seem to coincide with massive projects on their end.
My printer is upstairs and my laptop was with me at the kitchen table.  I pulled up all of the KDP reports from 2011 to 2015.  Then I started clicking 'print.'
I failed to notice that some of my monthly KDP reports were 12 pages long because of the number of books and the countries that the books are selling in.
I also failed to notice that I had not set up the reports to print in 'landscape' and not 'portrait.'
My son, who was actually working on a computer in the room where the printer was, found me after a while.  "Mom, what are you doing?"  He indicated that he had just noticed some of the pages that were printing only had a few words on them.
Sigh.
Some findings from my Amazon reports (doesn't include other retailers):
My foreign sales became strong after price matching freebies ran.  Somehow, clearly, those free books gained me visibility on Amazon's international sites.  I did set it up for the international prices to be based on the US prices.
I've given away 429,944 free units.
Looking at the months where I had a lot of downloads of a free title, in general the sales of the same/other titles increased.  But sometimes, the sales the following month declined and then dramatically bumped up the next month. I've never seen sales decline more than one month following a free promo.
So, I conclude that free promos tend to give me visibility in international markets as well as here at home. That bump in income may not show up the following month, but two months later.  I think that, for me and my genre and with the number of titles I have, free is a good strategy for me for visibility in a crowded marketplace. I recently read a thought-provoking post from Jane Friedman: "The Strategic Use of Book Giveaways and How They Can Increase Earnings Potential."  In it, Jane says, "Giveaways (or freebies) are popular for good reason; they're a classic, frictionless way to make people aware of your work."
Strategies for the free books?
I was interviewed on Tuesday by Camille Fabre-Pergola and Phin Lambert at Vook and they asked me if I had a strategy for which titles were free.  It was a good question and it made me realize how undeliberate I can be when I'm running a free book promo.  Since my books don't really have continuing subplots, I haven't found it strictly necessary to make the first book in the series free.  In fact, I can't make the first book in the series free, because it was traditionally published by Midnight Ink (and that ebook is actually currently priced over $8, I believe).
So I choose my free title a bit differently, since I have no control over the pricing of that first book and the books don't have a continuing story arc.  Usually I take a look at the Amazon ranking and reviews of all the titles.  If there's a title that could really benefit from a boost in either rank or number of reviews, I pick that one.  I make the book free on Smashwords and then Amazon (usually very quickly…24 hours?) price matches.
Things I'm going to start tracking better (some related to free promotions, some for other data):
Sales per title (unless/until Amazon does a better job helping us collect it on the dashboard). I still don't know my strongest title or the number of units because I completely ran out of time.  I think this will be something I give the 13 year old to do on a rainy day when she has little homework.
Monthly sales totals.
Monthly downloads totals.
And to keep up with it better, I'm going to print out those reports each month.  Then I won't have such a huge chore. Somehow, it's easier for me to add the stuff up when it's on paper.
Have you tried these types of promotions?  How did it work for you?  Any revelations of your own from your sales and downloads reports?
Tweetable:
Potential benefits of free book promos: http://bit.ly/1BDBrhZ via @elizabethscraig   (Click to Tweet)
Image: from Death to the Stock Photo
(Visited 42 times, 1 visits today)