By Joanna Campbell Slan, @joannaslan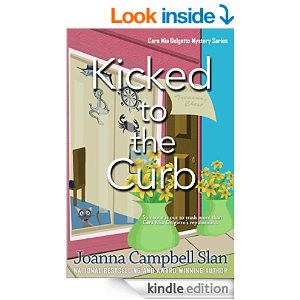 Building Blog Traffic
Reviewing all the blog posts I've done over the years, the one that garnered the most attention was a serialized short story I'd done with my sister bloggers at Killer Hobbies. That got me thinking. What if I wrote a short story by myself and offered it in serialized installments?
Other Goals
Better yet, what if I wrote the story in real time? The idea held a lot of appeal. A serialized story would engage more readers and get them to sign up as blog followers. They might even want to tell their friends about my work and suggest that they check it out. Best of all, eventually I would have a new product that I could bundle and repackage for sale.
Results—Expected
So I decided to give it a try. Over the past month and a half, I've serialized two long short stories and I'm embarking on my third. As predicted, reader involvement with my blog has improved immensely. Now I've added two new short stories to my body of works.
Results—Unexpected
While it's certainly daunting, this daily exercise has been a boon to my creativity. Knowing that I need to write a post each day, following up what I wrote the day before, and moving ahead with the plot, is a bit nerve-wracking. That said, I'm loving it! They say it takes twenty-one days to form a new habit, so I'm not quite at the "new habit stage," but I'm definitely on my way.
I find the nearly instant feedback from my readers to be an incredible energy boost. So much of writing is solitary, and this sort of immediate response is incredibly affirming. Readers have told me that they open their computers each morning eager to start their day with a new post! Now if that doesn't keep an author at her keyboard, I don't know what would.
How It Works
The work is done in real time or nearly so. (Sometimes I write the post the night before, sometimes I write it the same morning it goes live.) So I'm creating the stories as I go along. Each day I remind readers how to read the previous installment. I also publicize the offering through my newsletter and on my Facebook page. Because the blog posts can't be too long, I find myself thinking in terms of shorter, denser pieces with cliffhanger endings. I have a hunch that will improve my writing.The stories are left up for one week after I finish, and then we take them down. That helps drive readers to my blog in a timely manner.
Have a Look
Want to see what I'm doing? Here's the link: http://joannaslan.blogspot.com/2015/04/cara-mia-delgatto-and-bye-bye-birdie.html
Let's Chat
I'm curious… Have you ever written a serialized short story or novel? As a reader, would you enjoy following along with a serialization? As an author, would you be game to try it?
*****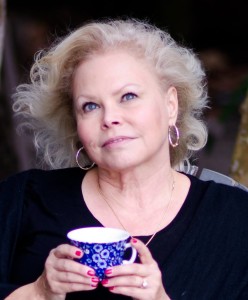 National bestselling and award-winning author Joanna Campbell Slan has written twenty-eight books, both fiction and non-fiction. Visit her at www.JoannaSlan.com or follow her on Facebook at http://www.FB.com/JoannaCampbellSlan The most recent book in her new Cara Mia Delgatto Mystery Series is Kicked to the Curb (4.9 stars out of 5 on Amazon). Get it here.
Why 1 writer is serializing fiction on her blog (by @joannaslan):
Click To Tweet
(Visited 370 times, 1 visits today)