by Elizabeth S. Craig, @elizabethscraig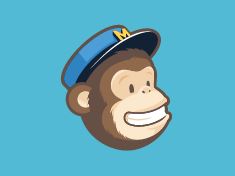 Warning: boring post ahead!  But since I've struggled with Mail Chimp and Amazon, I thought I'd share what I've learned about both platforms. 
Many writers offer free ebook incentives for signing up for their newsletter.  I liked the idea of the giveaway, but I knew one thing: it had to be automated. I don't have the time to email ebooks to readers in their preferred format.
After researching, I realized that I already had the tools to be able to get the delivery process automated…I just hadn't realized it.  Here's what I did:
I use  Mail Chimp for newsletters.  It's free for up to 2,000 subscribers.  (Rest assured, if you're on other newsletter platforms, no worries, you can use automation there, too…I just don't know how. :) )
Pull up your newsletter campaign (https://us4.admin.mailchimp.com/lists/ ) .  There's a drop-down arrow next to "stats" and I selected "signup forms." On the page that comes up, under "forms and response emails," use the drop-down arrow and choose "forms".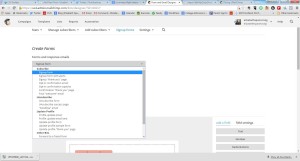 The forms that I used were "signup form,"  "signup thank you page", "opt-in confirmation email",  "confirmation thank you page" (but I changed it to "go to a link" instead of using the email on the Mail Chimp page…that's a choice we can make on the form), and the "final welcome email".  We can upload images to any of these forms to make them more appealing for readers, if we use the image icon in an editable field.
I created images on the free Canva site.  One was:  "sign up for my free newsletter and get a free copy of Dyeing Shame."  I used that in the backs of some of my books.  I hyperlinked the images in the "sign up" ad to my Mail Chimp newsletter signup page: http://eepurl.com/kCy5j  . Then I downloaded the file  as an image and then uploaded it to the Mail Chimp forms.  Here are is the ad and the Mail Chimp forms: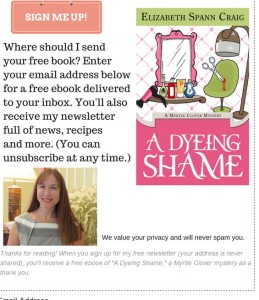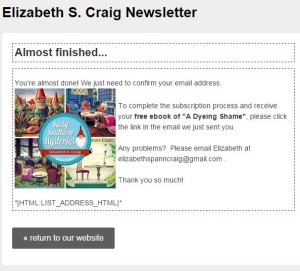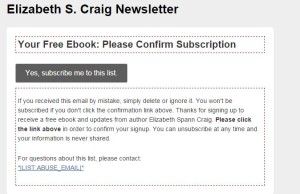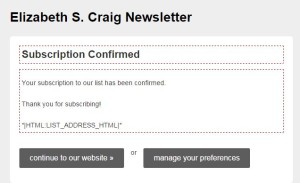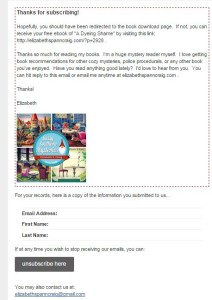 I created a page on my website with the links to deliver the free ebook.  We can mark the page as public or private (page settings on WordPress).  Instead of having Mail Chimp email the "Success!" notice with the download instructions, I set up the form to go to my site: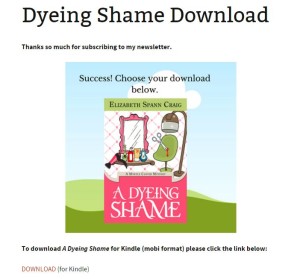 On the site, it has instructions and links for downloading the free book in Kindle, epub, and PDF formats.
For the download links, I used Amazon's free storage .  I logged in with my Amazon login.  Then I created a "bucket" called "dyeingshame"  and uploaded 3 files: Kindle, epub, and PDF.  When I selected each file on the site, a side menu came up.  I chose 'properties', then 'permissions'. Then I clicked  the green arrow for 'add more permissions.'   I then used the drop-down menu to select 'everyone. and saved it.  A minute later, the file was showing as public.   I copied the file url and hyperlinked it to the 'download' text on my webpage.
I hope everyone's still awake.  :)  This is a post that I'll refer back to, myself, for future reference.  I know it's convoluted.   But it's not quite as difficult as it might seem.
This is one thing I've worked on recently, marketing-wise.  What have you been working on lately?
How to offer and distribute free ebooks as incentives for readers:
Click To Tweet
(Visited 249 times, 1 visits today)