By Elizabeth S. Craig, @elizabethscraig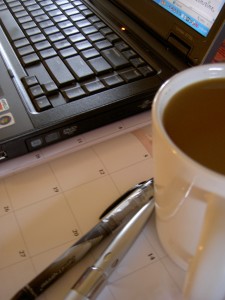 I've seen several articles and post comments online recently where writers have stated they've used services like Buffer to schedule tweets because it's very cumbersome to mass schedule on Hootsuite.
Buffer is a popular scheduler.  It just didn't work for my purposes because I like more control over when I'm scheduling tweets and I wanted to schedule more than 10 updates per day, which would require a paid Buffer subscription. I also needed to be able to download weekly lists of all of my updates for my weekly Twitterific link roundup.  I'm on Hootsuite Pro : a paid subscription that allows me to download reports/lists of my updates.
You can mass schedule on Hootsuite Pro with limited trouble.  These how-to posts can be really dull if you're not interested in the topic explained, I know.  But I do think that scheduling our social media updates saves us a lot of time. 
Social media scheduling: the why
On Twitter, I'm a curator/broadcaster.  I comb through writing-related links each day for the best posts.  The posts are scheduled and broadcast on Twitter without my being on the site at the time of the posting. I interact with writers (sometimes hours or a day later) on DM (direct message) if they make a comment personally to me about a link or anything else.  Although I've read many posts saying this is not the best way to network on Twitter (and I can see their point), it's worked very well for me in terms of platform building.
Even if you don't want to schedule tweets to the extent that I do (12-18 tweets a day), a little light scheduling on Twitter, Facebook, or the platform of your choice means that you can have more control over your schedule and still update on those sites.
Social media scheduling: the how
My method is a little more involved because it involves curating writing links.  But you can apply this to your own needs.  I use Feedly as my RSS reader and subscribe to a huge number of blogs.  Each day I comb through the posts to find12-18 really solid stories. I click each one to open it up in a new tab (this part drives my husband, who is in IT, a bit crazy).  Yes, I have a lot of windows open at once.
I use Hootlet, which is a free extension that works with Chrome and Firefox. On each of the open windows, I click the Hootlet button and it shortens the post link. I either use the post title or rewrite it (frequently they need to be rewritten for brevity and better headline quality) and then copy-paste the link.

I paste the link into a 3rd party site that will compile my links into an excel spreadsheet: http://sonixstudio.com/app/csv-builder . I choose the date I want the links to run (sometimes even weeks in advance, if I'm going out of town, etc.), schedule the times of day I want the links scheduled (I usually pick 7 a.m. to ll p.m. ET, just because those are the times that get the most hits), the number of posts that I want scheduled that day (12-18), and then I paste the links from Hootlet as I create them.  At the end (when I have the number of posts I specified to Sonix), I hit submit and then download.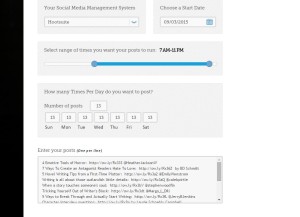 Then I go to Hootsuite's publisher dashboard. Choose where you want the updates made (Twitter, Facebook, etc.) At the bottom left is bulk message upload.  I click that. I find my downloaded file with browse.  Then I click submit.  And it's ready to go.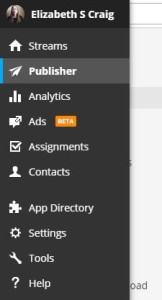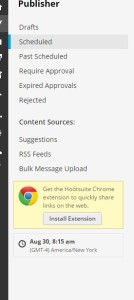 Specific to link roundups:
I've had everyone from agents to new writers ask me the easiest way to compile link roundups. For Twitterific, my link roundup on Sundays, I go back into Hootsuite's publisher page, click past scheduled and scheduled in turn, export the listed links as CSVs, download these excel sheets, run them through NotePad, then Word, then One Note (in order to get formatting and hyperlinks working) and then copy the text into a WordPress post.
Hoping there are a few people out there (heavy schedulers) who can really use this information (and hope that I didn't put the rest of you to sleep!)  Anyone who does light scheduling can use the Hootlet extension to schedule in posts individually instead of in bulk.
Do you schedule some of your social media updates?  How do you do it?
Curating Links and Bulk Scheduling Them:
Click To Tweet
Image: MorgueFile: jdurham
(Visited 33 times, 1 visits today)